Presently, there are no Dogs currently Available
for Adoption. All Dogs Pictured on our website
have already been adopted into loving
forever homes. Please enjoy our website.
Diesel
Diesel Video



Diesel is a harlequin male Great Dane who is looking for a wonderful, loving home to adopt him.

From Diesel's prior owners:

Hi Burt and Tracy:

We have an 11 month old male harlequin great Dane that we are unable to keep.

His name is Diesel. Diesel has been neutered and is up to date with his shots. He has gainfully completed his intermediate training class at Petsmart, even though he has a bit of a stubborn streak. Diesel is very loving and has slept in a queen size bed with my grandson, Taylor, since he was 8 weeks old.

He is house trained, as well as crate trained, and gets along well with children and other dogs. I'm not sure if he gets along with cats as he hasn't been around any.

Taylor and I are both tearful that we need to find Diesel a new home. However, I am gone from 7:00 am-7:00 pm, 5 days a week, and Taylor is a paramedic and works 12 hour shifts up to 6 days a week. We live in a townh ome and Diesel doesn't have the space or the attention or the exercise that he deserves to have. If you can help by taking Diesel, we would be forever grateful.

By the way, Diesel currently weighs 110 lbs.

Thank you for your time.

* See the photo of Diesel's graduation from his intermediate training class.

Grace Kelly
Grace Kelly Video

Grace Kelly is fawn female Great Dane who is as beautiful as a movie star! When Grace's family took her to restaurants that allow dogs, she acted like a star and got star treatment. Grace is great with everyone . . . kids, cats, other dogs, and has even lived with a tortoise! Grace is looking for a wonderful, safe home where she will be loved and cherished forever!

Maximus
Maximus Video

Maximus is an incredibly sweet and loving Great Dane puppy. He gets along with dogs, cats, children, everybody. 
If you are having a bad day, Max will really make you laugh!


Zeus
Zeus Video

Zeus is a big beautiful, loving Great Dane who is playful and exuberant. His family has a very small toddler and a newborn on the way, and they felt that Zeus was too exuberant to be around infants and toddlers.  He is well trained and lovable, but is a "Big Puppy" who gets excited and gets the Great Dane "Zoomies" every now and again, which, on one occasion, resulted in the toddler getting knocked down by accident while playing with Zeus. Zeus is loving and friendly and thinks everyone is a friend that he must meet and played with.  Zeus is looking for a great home where he can be exuberant and playful around people who are big enough to handle loving affection and where he can be happy and safe for life!

Rocky
Rocky Video
Champ Video
Champ
x





| | |
| --- | --- |
| Habbibah | |
| | A Herd of Incredible Ibizan Hounds arrived at Gentle Giants! Working with a group of California shelters regulating breeders, we got a call that the shelter had just taken a large group of very young Ibizan hounds from a breeder. Of course, we agreed to take them all and they arrived here on the same day! They are adorable gorgeous and more awesome than mere words can describe! They came here skinny and worried and now they have gained weight and are outgoing and friendly! We are seeking the best homes on earth for these incredible big babies who have so much spunk and personality and love to give! Some are Wire-Haired Ibizan Hounds and they look like Irish Wolfhounds because of their whiskery faces and bodies. All of them are loving and amazing and great with everyone. They are amazing looking spectacular dogs that deserve the best homes. Habbibah - His name means "Loved." Habbibah is a beautiful, sweet, playful and adorable young male Ibizan Hound. |
Video of Habbibah and Friends
| | | |
| --- | --- | --- |
| Charlie | | |
| | | |
Charlie is a Miniature Goldendoodle
| | |
| --- | --- |
| Cody | |
| | |
Cody - Chinese Crested Powder Puff
| | |
| --- | --- |
| Estrella | |
| | |
Estrella is a Portuguese Podengo Medio
SOUTHERN CALIFORNIA RESIDENTS ONLY
WE ARE CURRENTLY NOT ACCEPTING ADOPTION APPLICATIONS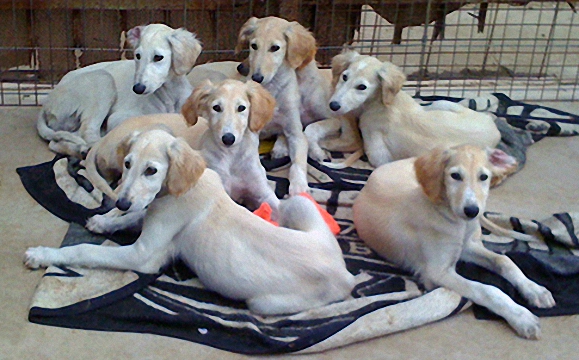 American Staghounds - Saluki Borzoi Greyhounds
Baby, Cleo, Egypt, Sandscript and Cupid


Gentle Giants Rescue and Adoptions - Available Gentle Giants and Little Giants for Adoption
Gentle Giants Rescue and Adoptions - Available Gentle Giants and Little Giants for Adoption



We invite you to follow us on

Please Note: Gentle Giants Rescue and Adoptions, Inc. reserves the right to make changes, additions, deletions and/or modifications to its website, documentation, requirements and policies at any time.
All such changes, additions, deletions and/or modifications to its website, documentation, requirements and policies may apply retroactively at the discretion of the company.

© Copyright 2003-2012 Gentle Giants Rescue and Adoptions, Inc. All Rights Reserved.