Gentle Giants Rescue Volunteers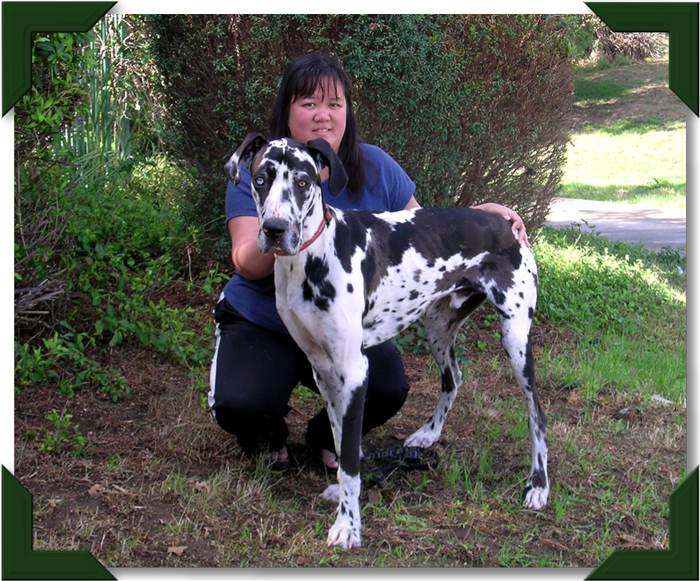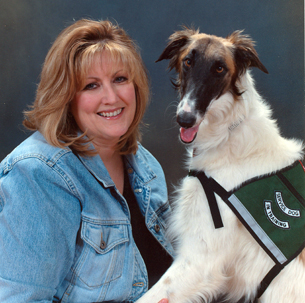 Annette Riley and Leona


Hi,
My name is Annette Riley.

My husband Patrick and I are currently owned by "Sweetness" (Gentle Giants Rescue - Dane / 9 months old), "Bumper" (Gentle Giants Rescue - foster puppy - Dane / 13 weeks old), "Leona" (Gentle Giants Rescue - Borzoi / 18 months old), "Hannah" (our wisenheimer Weimaraner / 11 months), and "Miracle" (bouncy Boxer / 18 months old).
Once upon a time my husband and I were looking for a dog to rescue.

We searched high and low for the perfect rescue for us.

Long story short . . . we were very blessed to find Gentle Giants Rescue and the Ward family. They are one in the same!

We started with adopting "Sweetness" (named after the famous Walter Payton).

You remember the saying that goes something like . . . "bet you can't have just one?"

Well, Gentle Giants Rescue should buy the rights to that infamous saying because it stands to be the truth with this rescue.

The wonderful dogs adopted out of Gentle Giants Rescue have made a difference in our lives and to so many others.
The dogs that come out of Gentle Giants Rescue come out the way they do as a direct result of the dedication, hard work, and determination of two very special people.

Tracy and Burt are two very special people.

I have never seen two people put so much of their heart, soul, and physical efforts into an unselfish cause.

Being around Gentle Giants Rescue and having adopted great family members from them compelled both my husband and I to be a part of the team!

My husband and I have done numerous pick-ups for Gentle Giants Rescue. Today my husband went and picked up two Mastiffs that had been surrendered to kennels. It is such a great feeling to break these precious guys out of "death row" and to see them transform into beloved family pets.

If you would like to volunteer your time, supplies, a monetary donation, or all of the above, we would love to have you as part of the volunteer team!

This has been the most rewarding experience for us as a family.
I would like to personally invite you to be a part of the Gentle Giants Rescue "Volunteer" team.

Here are some of the things that you can do to help Burt, Tracy, Melody, and all the 'fur' family at Gentle Giants Rescue.
(1) Volunteer Pick-Ups (from airports, surrendered family dogs, shelters) - Just 1 pick-up a month could make a big difference in helping this wonderful rescue. However, you are very welcome to volunteer more!!!
(2) Donate: Collars & Leashes - Dog Beds - Blankets - Brushes - Dog Toys

(3) Help with the medical care (surgeries, medicines, vaccines, etc.) with a tax deductile cash/check donation. Your $$$ will save more innocent lives!
(4) Help feed these gentle giants with a cash/check donation. It takes a LOT of food to care for these large breed dogs.
(5) If you are a previous adopter, you can foster a Gentle Giant awaiting adoption. Just email burt@gentlegiantsrescue.com or tracy@gentlegiantsrescue.com and tell them you would like to sponsor a gentle giant in need. Gentle Giants will provide you with a photo of your special friend and updates on their progress.
(6) Last, but not least . . . SPREAD THE WORD to others so that they can enjoy the experience of helping Gentle Giants rescue these precious, loving giant breed dogs.

Thank you.

Annettte Riley


To volunteer with our rescue (what we really need is people to pick up dogs and bring them to us), please contact us at rescue@gentlegiantsrescue.com.