Gentle Giants Rescue and Adoptions - Welcome! - Introduction - Page 5 of 5
Go to Page 1 · Page 2 · Page 3 · Page 4 · Page 5



Hi Burt and Tracy,

What an amazing experience we had at your place.

You are incredible!

How lucky the dogs are to have you, and how lucky we are to have one of your dogs.

We made it back to Phoenix with "GiGi" (now called "Lucy Lu-Lu") late, but fine.

She explored every inch of her new house and yard, had dinner and went to bed.

She is just the sweetest and most well mannered dog we have ever seen.

We are all in love with "Lucy" . . . even the cat!

Our Chihuahua is adjusting well, much better than I expected.

We can't imagine life without her.

Thank you for all that you do for the dogs you rescue and the families that adopt them.

Your huge hearts were apparent.

One request, in our chaotic departure we didn't get our care information.

I'd love to have it - your recommendations are invaluable to us.

We will continue to ward off our friends and extended family for the next couple of weeks, and keep you posted and send photos soon.

Wendy Dickerson and Family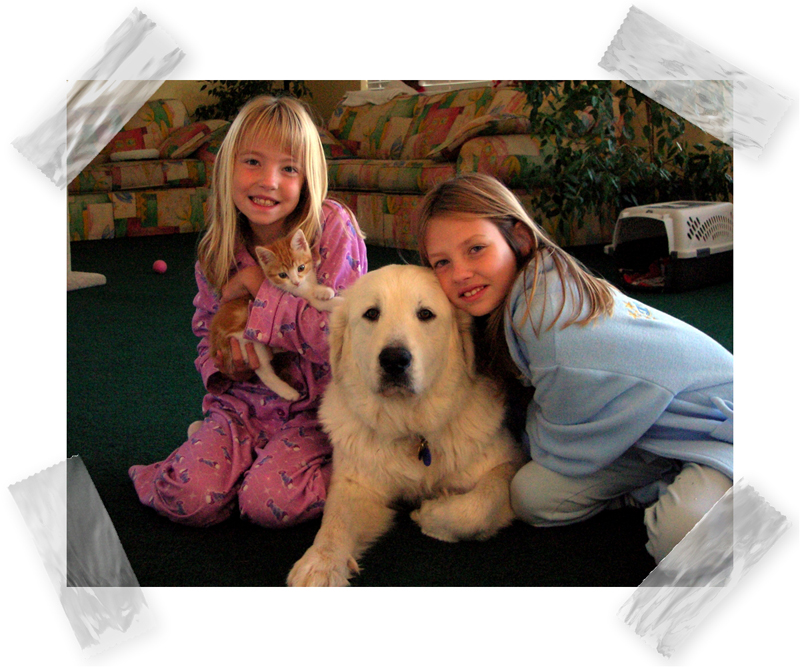 December 3, 2005

Hi Tracy and Burt,
Just wanted to thank you again for your hospitality and patience yesterday.

It was a pleasure to meet both of you.

You both are amazing!
"Snow White" was terrific in the car and we made it home safe and sound.

She is an absolute doll.

She is so beautiful and gentle.

I think she is going to be the perfect match for our family.

She and "Mickey" (the kitten) are doing great.

"Mickey" likes to play with her tail and she seems fine with it.

They have already found cuddle time.
Attached is a photo.
Thank you again!

Glen, Gretchen, Lexi and Annika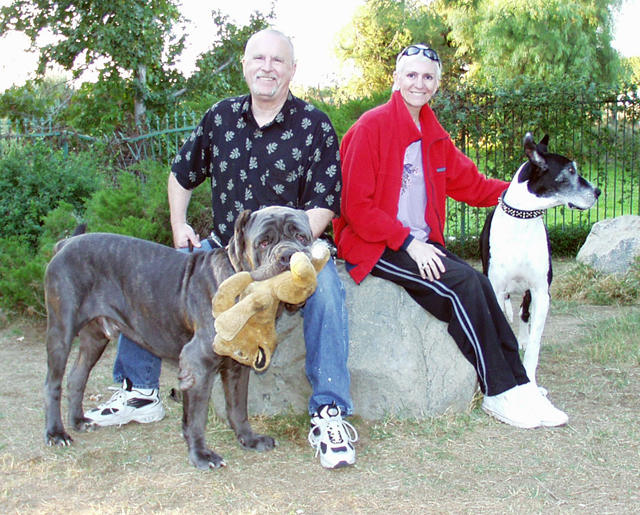 November 8, 2005

Dear Burt and Tracy
,
First of all, coming from a couple of people like us who rescued Greyhounds from the hideous conditions of the race track and an early death in Florida, thank you for the great service you are providing.

What you are doing will guarantee you both a special place in heaven.

Coming to your home and just seeing the enthusiasm and passion you both have for what you have built is truly uplifting.

Aside from all of that, you are both really nice people and it is just fun being around you.
Visiting you in Norco was a rare experience.

Being descended upon by your "Herd" of 20-30 Gentle Giants is an overwhelming experience, but being witness to the kindness and camaraderie of the dogs is even more overwhelming.

I just wish we had the accommodations and the money to take them all.

One was more beautiful and well-behaved than the next. It was like going to a fine restaurant where you just know everything on the menu was excellent, but that you had to pick just one.

Well, of course we couldn't pick just one!!!!

First came "Bear" a 2 1/2 year old Neopolitan Mastiff.

At first, I characterized him as possibly the ugliest dog I had ever seen, but now I see him as a stately gentleman with nothing but great habits, manners, intelligence and lots of love to give.

He is beautiful and we are so lucky to have him as part of our family.

He gets along extremely well with "Akilla" our Great Dane, who is often very hesitant to take on new friends.

When we chose "Bear" a close second was "Brutus" a 2 year old Giant English Mastiff.

He was calm and reserved, and once again, got along with "Akilla" extremely well.

He was a real gentleman.

Well, he wasn't second choice for long . . .

When "Bear" worked out so well, we placed an urgent call to you to see if "Brutus" was still available.

Fortunately, he was and we are now looking forward to have our family made up of a Great Dane, a Neopolitan Mastiff, a Giant English Mastiff, and us.

Knowing that we were in the process of moving to a larger home, you were kind enough to care for "Brutus" for us until we were ready for him in about 3 weeks.

We know you go to great expense to insure the good health of the dogs you have for adoption, but like the responsible parents we are, we immediately took "Bear" into our Vet for an exam after we got him home.

Once again, our opinion of you both jumped up a few more notches.

After a thorough exam, the doctor declared him in perfect health, and obviously cared for very well.

Where our dogs are concerned, we spare no expense, so we plan to continue to give "Bear" and "Brutus" the care and love they both deserve.
In conclusion we just want to say that we are so glad to have met you both, and we want to always stay in touch.

Our Gentle Giant Experience is a story we will tell our grandchildren.

We will send you lots of family pictures as our guys grow old with us.

Finally, thanks again . . .

Thanks for doing what you do . . .

Thanks for helping us find the perfect additions to our family . . .

And mostly, thanks for being our friends.

Liam and Bruce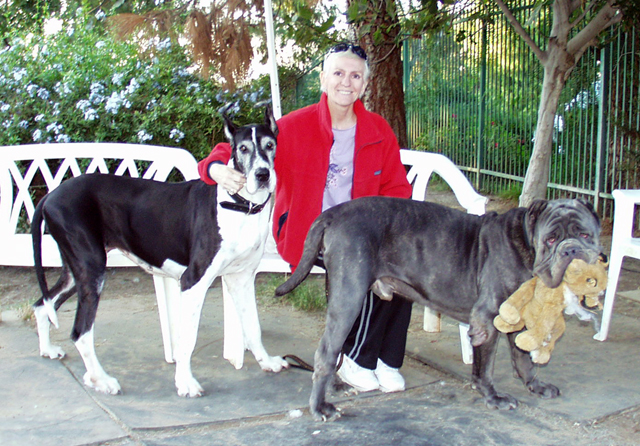 Date: October 28, 2005

Subject: A happy "Tail" from one of your adopters

Dear Burt and Tracy Ward:

We received the following story from one of your adopters and thought that you would like to see it.

Thanks again for all that you do.

Mike
Petfinder.com

Name: "Lola"
Type Animal: Dog
Shelter Name: Gentle Giants Rescue and Adoptions, Inc.
City, State: Norco, CA
Found on Petfinder.com: Yes

We had been looking for a family pet for some time and came upon your web site. The rescue we chose to go to was Gentle Giants Rescue in Norco. After reading and learning more about this rescue, my family and I just needed to go and visit them.

We were overwhelmed at first when the herd came out but enjoyed the experience. We were asked what kind of breed my family and I were looking for and told them a Dane and a Hairless - two extreme sizes of the spectrum. We were shown "Lola" a Mexican hairless, and fell in love with her right away. We were told that she has been housetrained and housebroken, but if we decided to take her it will be after a week. She still needed to be spayed. Upon returning for our new adopted family member, she became the cutest new member of our family. She is a sweet dog and likes to cuddle with us all the time. She follows us wherever we go and cuddles with us when we sit on the couch.

We are still waiting to adopt a Dane from them after our new member gets to know us more and feel safe with us. Adopting from a rescue is the way to go. There are a lot of wonderful pets out there that need a home. We welcomed "Lola" and made her part of our family.

Arnel G.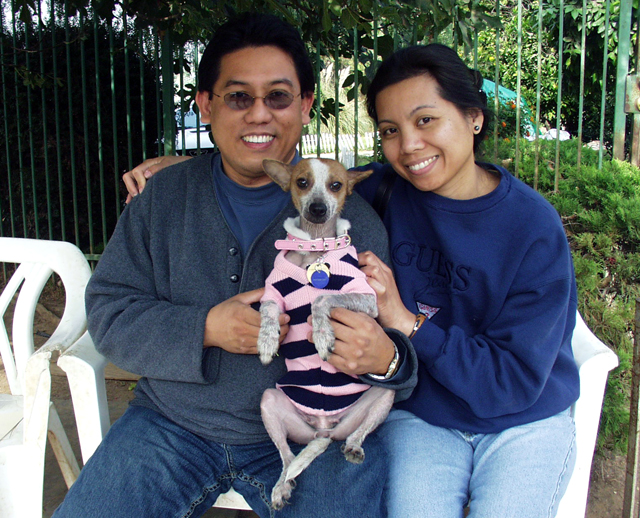 Hi from Juneau, Alaska!

If I ever come back as a dog and need rescued, I hope I'm lucky enough to end up in your place.

What an incredible service you're offering!

All your dogs look SO happy and would probably be content to live out their lives right where they are!

Wish I lived closer so I could come visit!

I'm sure I wouldn't be able to leave alone either!

We've rescued dogs since we've been married, about 13 years ago.

Currently have six large ones, but have placed many thru the years.

Seems like we always end up rescuing the larger breeds, too!

Here's one of our Great Danes, Daisy Mae.

She's 18 months old now. She's going nowhere and will be with us forever!

Again ~ thanks for what you're doing!

Linda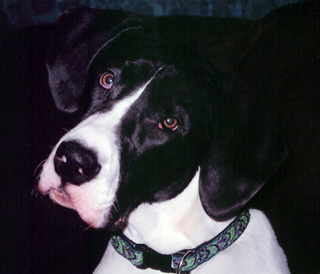 Hi,

I just wanted to write to you and let you know that I think what you are doing is unbelievable and that there should be more people like you in the world.

I am twenty years old, and for as long as I can remember have been dreaming of having a Great Dane companion.

My love for dogs started through my mom who has the biggest heart for all creatures.

Every single one of our animals has been rescued, and have endulged us with beautiful memories.

I stumbled upon your website while looking at pictures of Great Danes.

I read the whole thing and looked at all the photos.

I am hoping to one day, when i have the resources and appropriate home to offer, to make a trip down to California and adopt from you.

Cheers,

Maya
Toronto, Canada
Your Photos And Home Videos Can Be On Our Website, In Our Upcoming Book,
And In Our Gentle Giants Rescue And Adoptions Video!

Please email us your special, most sensitive, loving and zaniest photos and mail us your sweetest and wackiest home videos for our "America's Funniest And Most Sensitive Gentle Giant and Little Giant Photos and Home Videos" section of our website, for our upcoming book, and for our Gentle Giants Rescue and Adoptions video.
We are a California non-profit 501(c)(3) public benefit corporation, and if you would like to make a tax deductible contribution to help our cause, there are many ways that you can do so. Please take a minute and call us at (951) 279-5100 or and tell us how you would like to help. You can donate time, money, blankets, transportation of dogs in need, etc.
We are appreciative of any and all help. And if you wish to make a tax deductible donation to help us pay for food, medical care, surgical expenses, etc., please make your check payable to Gentle Giants Rescue and Adoptions, Inc. and mail it to the address below:
Our mailing address is:
Gentle Giants Rescue and Adoptions
P.O. Box 6005
Norco, CA 92860
Thank you for your generous help.




Gentle Giants Rescue and Adoptions - Welcome! - Introduction - Page 5 of 5
Go to Page 1 · Page 2 · Page 3 · Page 4 · Page 5

Please Note: Gentle Giants Rescue and Adoptions, Inc. reserves the right to make changes, additions, deletions and/or modifications to its website, documentation, requirements and policies at any time.
All such changes, additions, deletions and/or modifications to its website, documentation, requirements and policies may apply retroactively at the discretion of the company.

© Copyright 2003-2012 Gentle Giants Rescue and Adoptions, Inc. All Rights Reserved.