Providing Love And Care - Special People Helping Special Dogs


Temporary Foster Homes Needed Now!
(call us or email us today to participate in this new special program)
We are currenly seeking qualified Foster Homes only from our previous adopters to foster Gentle Giants and Little Giants that need a little more care and attention before they can be adopted!

If you would be willing to share your home and make these Loving Lap Dogs a part of your family until they are ready to come back to us for adoption into their permanent homes, then please call us today at (951) 273-1330 and leave a message of your interest in fostering, or send an email to adoptions@gentlegiantsrescue.com.

Participants in our Foster Home Program will receive special benefits if they adopt a Gentle Giant or Little Giant that they are fostering for us as a permanent member of their family.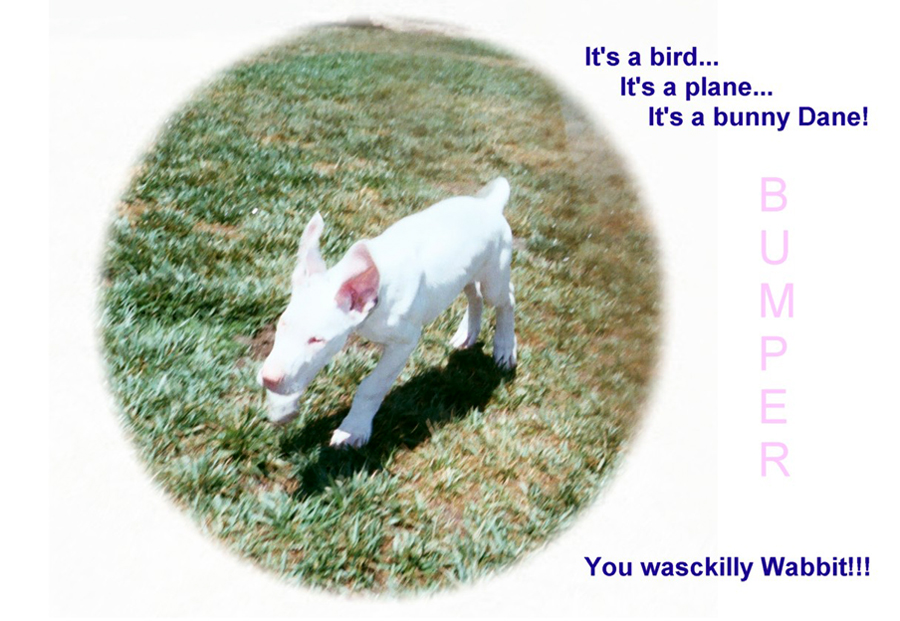 Bumper wants now has a Home!
My name is "Bumper" and I am a 12 week old Great Dane. I'm not your normal 'run of the mill' Great Dane. I am extra special.

While other Great Danes use their eyes and ears throughout the day, I use my "Super Hero" special radars to accomplish my
special puppy missions.

You see, when daddy Burt wasn't looking, I snuck into the Bat Cave and learned lots of neat stuff.

I can go in and out of a pet door with no help. I taught myself!

I find my food and water using my "Super Hero" special radar.

I play with my foster sisters and steal their toys when they aren't looking.

I feel sorry for them. They are special needs doggies that have to rely on sight and sound to know what's going on.

I know I should only use my super powers for good, but it's just too much fun playing tricks on the girls.

I also use my "Super Hero" radar powers to swim in the pool.

I go in with my foster Dad, and as soon as he let's me go, I swim to the steps!

I LOVE TO PLAY IN THE WATER!
Anyway, I have GREAT NEWS!

I am ready to be adopted!!!

If you are a family who needs some special help from this little "Super Hero", then you better get on the Bat Phone and call
Burt right now!

I'm CRATE TRAINED.

I love to take showers with humans! I'm awfully cute, very smart, and "Super Duper" special!
Love,
"Bumper"

Hi Tracy!

We are starting a photo album for "Bumper" the first 'foster pup' for Gentle Giants Rescue.

Here are some photos for the website.

I will have a surprise for you soon, but "Bumper" wants me to keep it a secret for now.

Hang on for another email with photos.

Annette L. Riley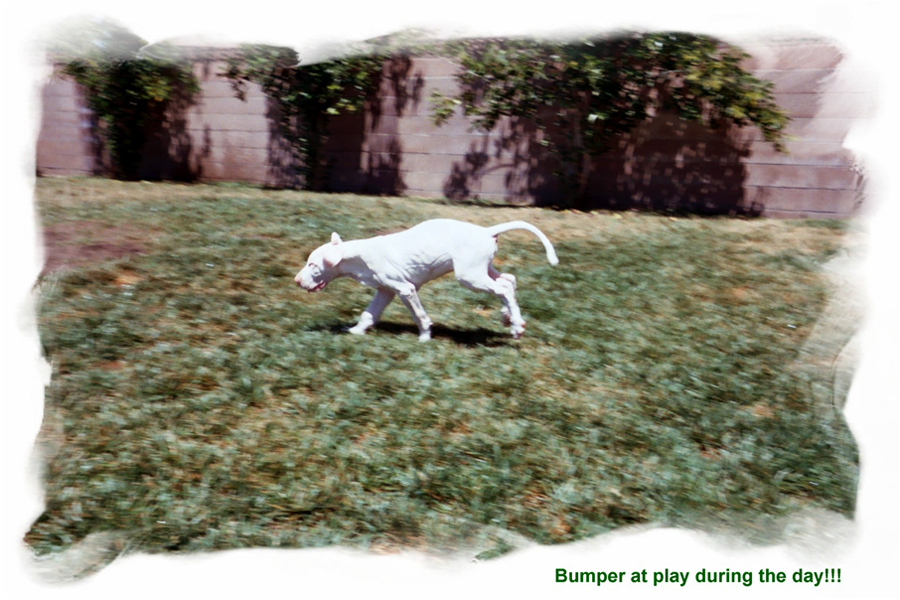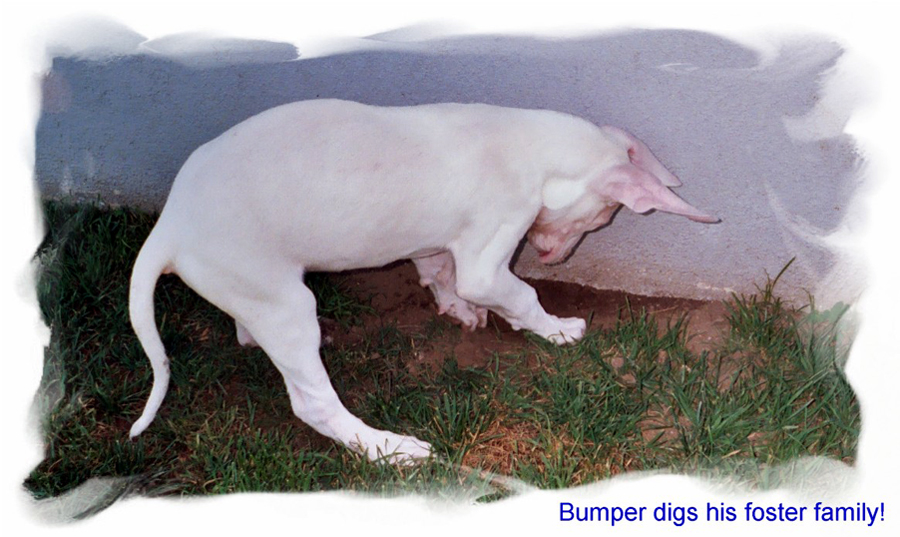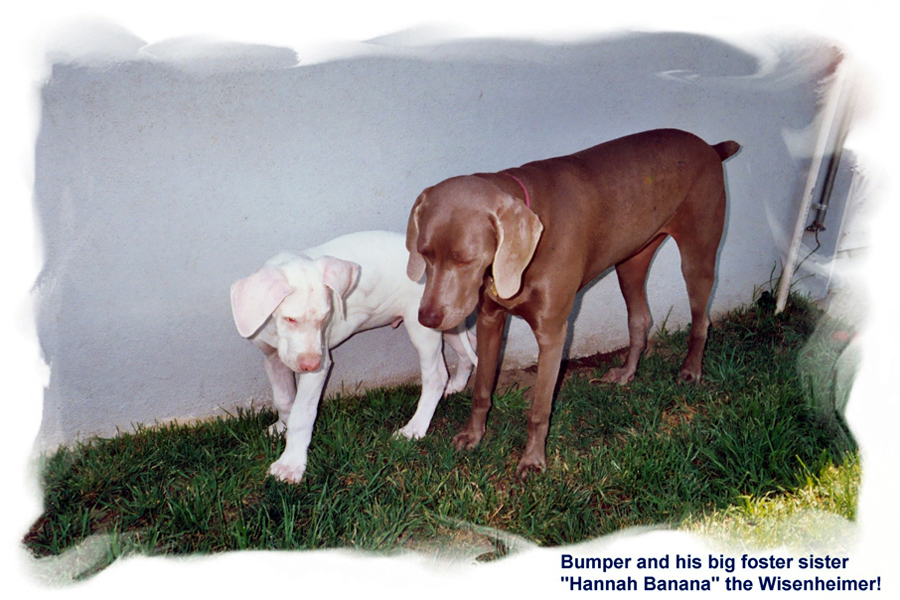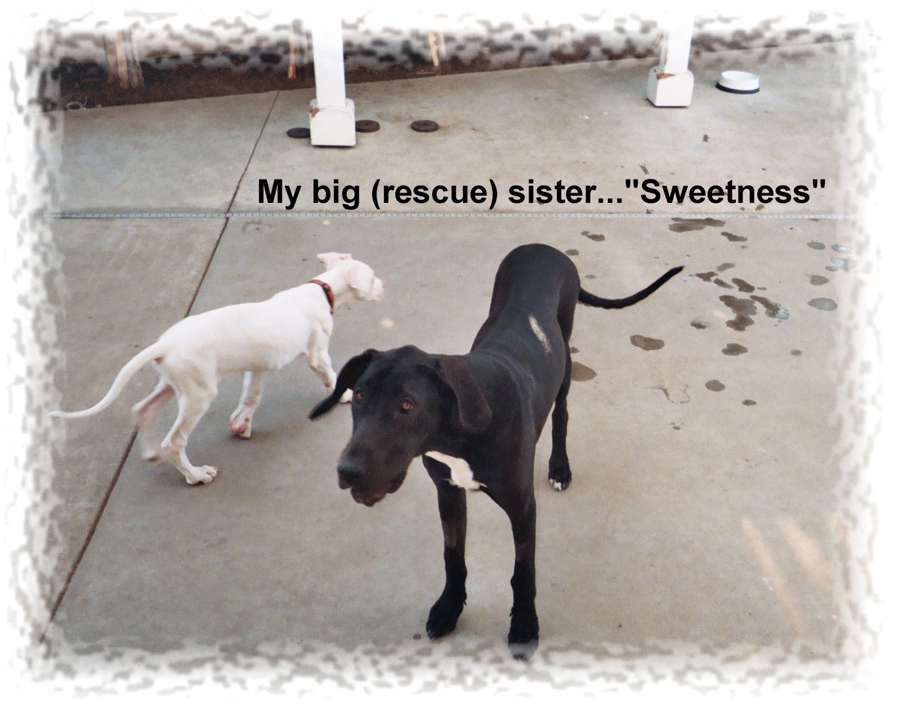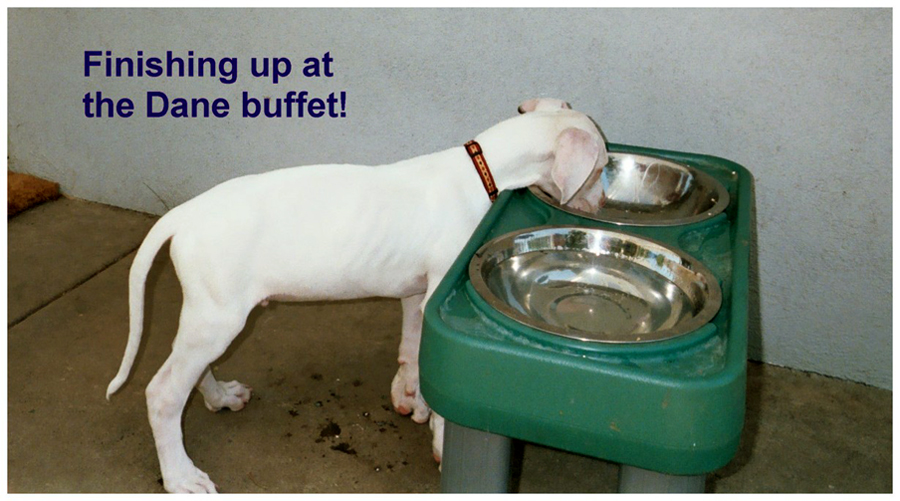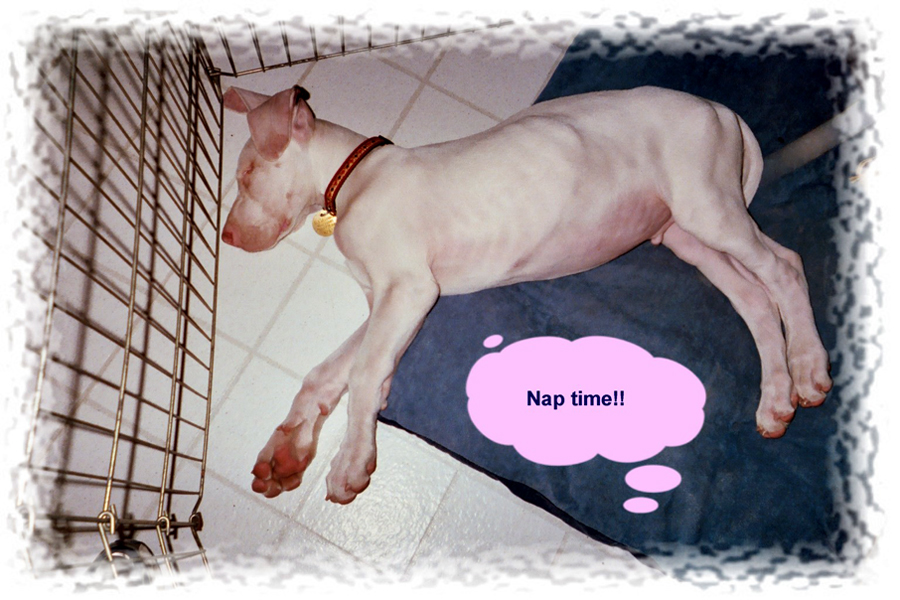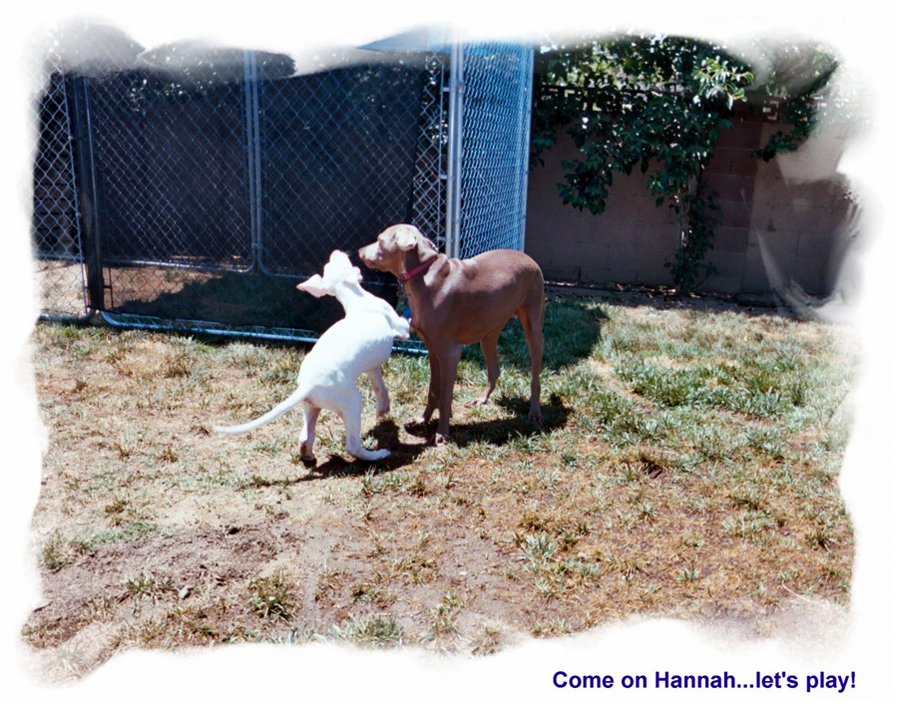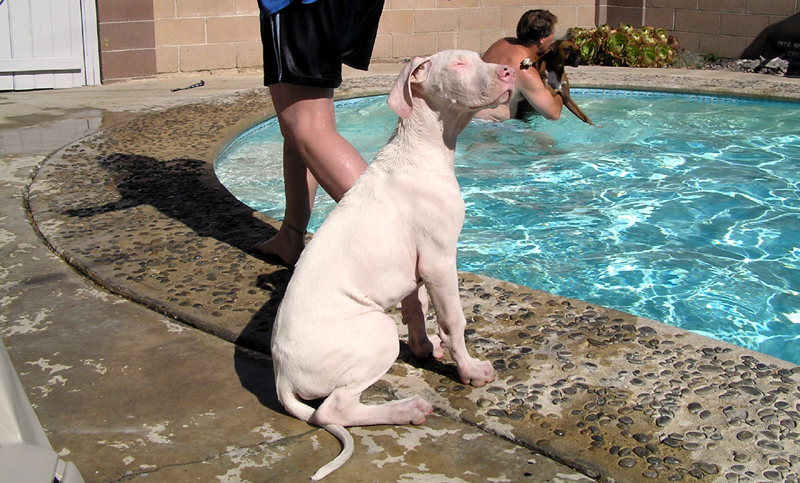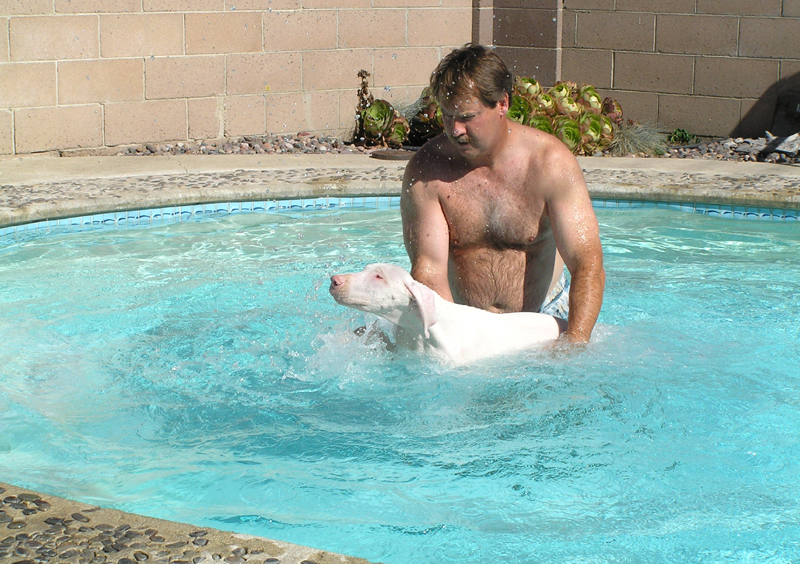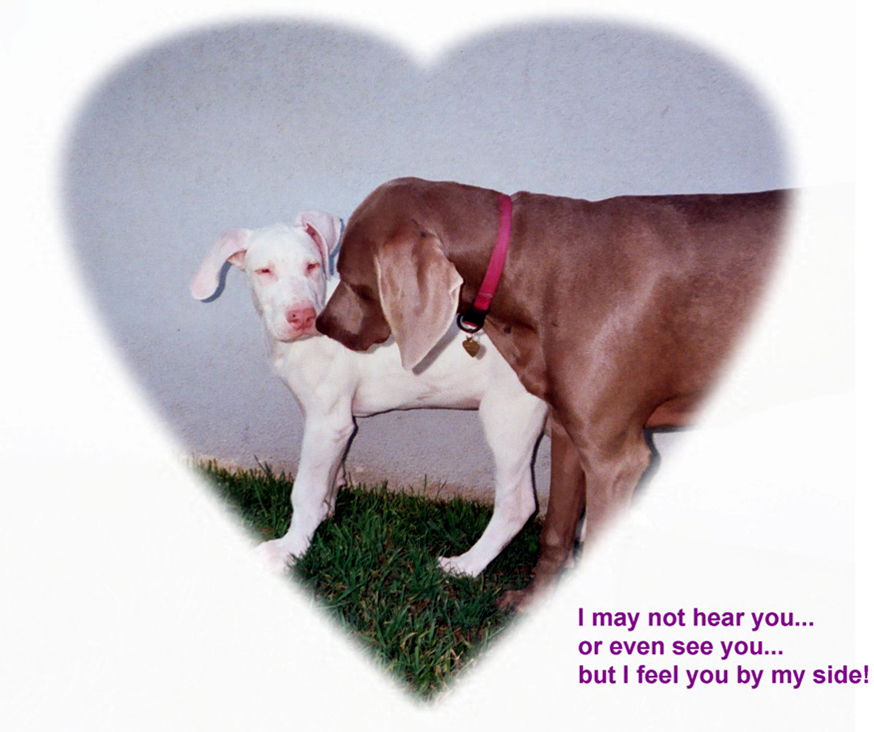 Hi Tracy,

I apologize that it took me so long to get you a message that we arrived home safely.

We've been sleeping all day to compensate for the 12 hours it took to get home.

"Thor" and "Snowboy" traveled extremely well, with only a few grumbles from "Gabby" our sheepdog.

"Thor" is already adjusting to life with us and it looks like he and Gabby will be best of friends.

We have re-named "Snowboy."

We now call him "Apollo."

As you may already know, Apollo is the Greek god of the Sun, and since our "Apollo" (aka "Snowboy") is
nearly blind, the sun seems to guide him (seems appropriate).

I think "Apollo" will fit right into our home, he has already figured out the layout of the house and we are
working on teaching him how to maneuver the stairs to the basement.

Of course, until he can master the stairs, they are off limits.

"Gabby" is not sure how to handle "Apollo's" near blindness and deafness, but she is already showing signs of adjusting.

I am just amazed at how well he behaves - even when he gets frustrated.

After visiting your home my family and I look forward to the day that we will adopt another Gentle Giant.

In a few weeks, we have a little get together planned to introduce our new family members to our existing
friends and family - hopefully this will help get the word out about your rescue!

Remember to look forward to a donation from my employer.

I donate to the company's Political Action Committee, and they match my donation to any non-profit corporation of my choice.

And, of course, I chose you.

We will send photos very soon and we will keep in touch.

Thank you for helping us find our new family members!
The Jeter Family (Jamie, Michael, Jaren, "Gabby" and now "Apollo" and "Thor")




Gentle Giants Rescue and Adoptions - Fostered Gentle Giants for Adoption - Page 2 of 2
Go to Page 1 · Page 2