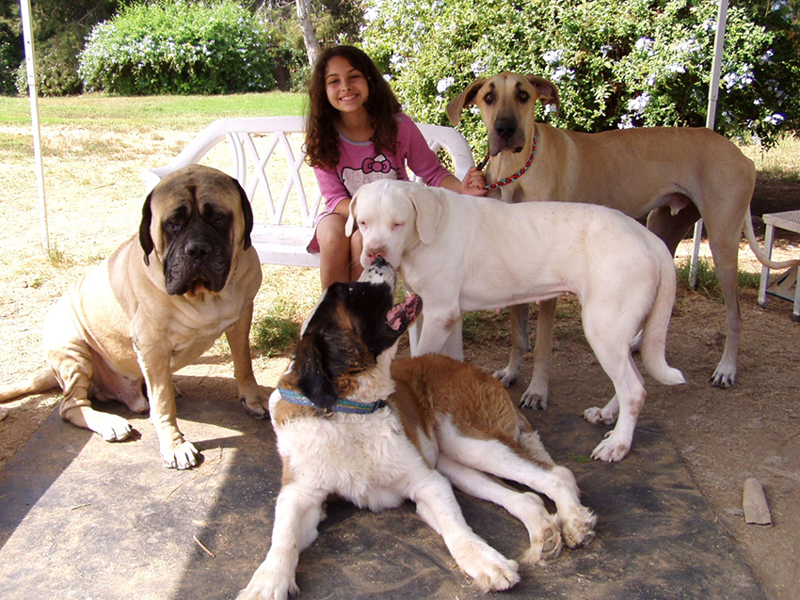 Melody sits with her Gentle Giant friends . . .
"Butkis" a Fawn English Mastiff, "Saint Bea" a Saint Bernard,
"Snow White" a White English Mastiff Puppy, and
"Bubba" a giant Fawn Great Dane Puppy
If you are ready to adopt a Great Dane, Borzoi, English Mastiff, Greyhound, Irish Wolfhound, Neopolitan Mastiff, Bullmastiff, American Mastiff, Adronicus Mastiff, South African Boerboel Mastiff, Dogue de Bordeaux French Mastiff, Saint Bernard, Great Pyrenees, Newfoundland, or other Large Lap Dog . . . please call our Adoption Information Line at (951) 273-1330 and listen to our adoption requirements.
If you meet all of our requirements and are ready to adopt now, please complete our Online Adoption Application (go to our 'Adoption Application' section above).

We will review your application and respond to you usually within 48 hours to discuss your application and to set up your appointment to adopt. We will also be happy to answer any questions that you have.
We have many Gentle Giants for adoption, too many to list. Please submit your Adoption Application today to adopt one or more of our Gentle Giants.
Dear Gentle Giants Family,

Just to let you know, my late nights and lack of sleep this past week has been because of your website.

I've been to every part and seen every photo at least twice!

How do you get Avalanche outside?

Do you have a doggie garage door???

I even got 'spoken to' by my boss, but after I told him why I was coming in late to work, he totally understood.

. . . [it's a good thing he rescued 4 dogs himself!]

Julie and myself sent our application to you Wednesday night, and we can't wait to hear back from you on the opportunity for us to adopt a Great Dane.

We have a very loving home with 2 other dogs, Princess, our Chihuahua , and Neo, our Min-pin.

Lately, I wanted to purchase a Great Dane from a breeder until I read the stories about rescued pups from Gentle Giants.

My eyes got moist when I read the "Gentle Giants Super Heroes to the Rescue" section.

Plus the story on "Bumper" made my heart sink . . . but in a good way!

I purchased a Dane years ago, but I would much rather rescue a Dane now and donate money to Gentle Giants than give money to a breeder,
who is sometimes out to make a buck or two!

Thanks for taking the time to read this ramble.

I can't wait to hear a response from you!

Sincerely Yours,

Scotty and Julia Steele

P.S. I've never been to California . . . EVER!!!

So, if I do get accepted for adoption, I would have a great reason to drive the 1,229.45 miles. Thanks, Mapquest!

P.P.S. With me working for a group of radio stations here in Washington State, I can help spread the word on Gentle Giants Rescue in the Pacific
Northwest whether I get chosen to adopt or not!


* * * * * * * * * * *
Dear Mr. and Mrs. Ward,

First, I want to commend you on your excellent work with these babies.

We recently lost our Collie, who was 19, and we have a big hole in our hearts now.

We have two 16 year old Irish Wolfhounds, and a 19 year old Collie, who really misses his "wife."

We have lots and lots of love to give and we would love to be considered for adoption of one of your babies.

We are especially interested in Great Danes and Mastiffs and, of course, Irish Wolfhounds, and Newfoundlands and also
French Mastiffs (Dogue de Bordeaux, I believe).

We are big dog people and have a little girl, 9, who is wonderful with dogs.

She volunteers at our vet's office and plans on becoming a vet when she grows up.

We have the means to care well for one of your babies, my husband is a stock broker (an honest one) and I am a nurse practitioner,
but I retired when we adopted our little girl, Juliana, from China, 9 years ago.

It would be an honor to hear from you.

God Bless You for your work with these precious dogs.

Respectfully yours,

Philip, Robin and Juliana Morton


P.S. We live in Paradise Valley, AZ, but our babies are, of course, always indoors, except for potty breaks and I would be happy to
furnish vet references or anything you need.


P.S.S. We are also interested in Molly, the beautiful Basset Hound and Bull Mastiffs and St. Bernards.

As long as they have a good disposition and you think they would be happy in a family with other dogs
(ours are all neutered, of course, and up-to-date on shots, etc.).

We would be open to any breed you think would best fit in.

Thank you again.
* * * * * * * * * * *
Hello -

I have been waiting a long time to write this letter and fill out the application for a Great Dane.

My wife and I recently moved to Palo Alto from San Francisco and we are now in a place where we can insure that a Gentle Giant
will make an easy and happy transition to our home.

Please find attached our application, a few pictures of our house, and the section of our lease pertaining to pets.

We look forward to speaking with you to further discuss the adoption of a Gentle Giant.

Thank you,

Nathan


ADOPTION APPLICATION TO ADOPT A "GENTLE GIANT"
Great Danes · Borzoi ·Mastiffs · Greyhounds · Irish Wolfhounds
Saint Bernards · Great Pyrenees · Newfoundlands
(
selected questions and
Nathan's
answers
)

How much experience have you had handling and caring for a giant breed dog - a Gentle Giant? None.
How much experience has your spouse/partner had handling and caring for a giant breed dog - a Gentle Giant? None.
Where will your adopted Gentle Giant be kept while you are away during the day? Inside. Our home will be "Dane designed" to create a safe environment for our Gentle Giant to live.
How did you find out about our rescue? (if from another person, please provide their name and location): On line research. I have been checking your site for the past two years and watching as you expand your rescue to include other breeds.
Do you have a swimming pool in your back yard? (yes/no): No.
If so, is there a separate fence around the swimming pool itself? (yes/no): N/A
If so, please furnish details: N/A

If not, please explain how you will protect your adopted Gentle Giant from drowning? (a really good answer is required) Two sets of orange arm floaties!
Are you a previous/current owner of a Gentle Giant? (yes/no): No.
Where is/are your prior and current Gentle Giants now? At Gentle Giants Rescue dreaming about going hiking, fishing, and to the beach with my wife and I.
Additional comments that you feel that we should consider?
1. Although I have never lived with a Gentle Giant, this will not be my first experience with dogs. I do have experience with sporting dogs. I grew up with a Golden Retriever and recently trained a friend's Golden Lab puppy.
2. Over the past few years I have done quite a bit of research selecting a breed of dog which will be a good match with our living situation and personalities. I have read general dog care/training books and spoke with several Great Dane owners regarding their experiences. I believe I have a good understanding (in theory) of the challenges of a large dog.
3. I will walk our Gentle Giant in the morning before work and again in the evening when I get home at night. We live right across from a local soccer field where we can go hang out after work. My wife is also an active runner. The best part is that with her short legs, the right Great Dane could keep pace at only a moderate trot.
4. I am also excited about becoming a part of the pet therapy program at our local hospital. The program allows children staying at the hospital the opportunity to play with dogs. I am sure they would love to meet a Gentle Giant.
Do you certify that all of the above information is true and accurate? (yes/no): Yes. Even the comment about my wife having short legs.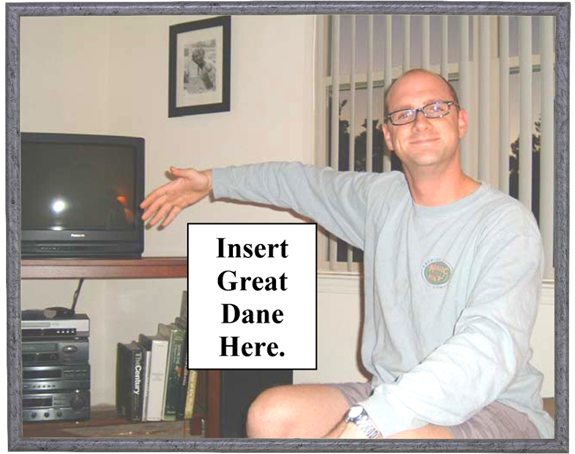 This weekend I received your email letting us know we were going to be headed to Riverside.

I thought I had received the greatest email ever.

I stand corrected . . . I love it!

My wife and I are so excited about adopting a Gentle Giant.

We are going to sit down this evening and talk about our trip.

I look forward to speaking with you.

While we wait to take our trip, I will use the picture you created as a temporary in my office.

Nathan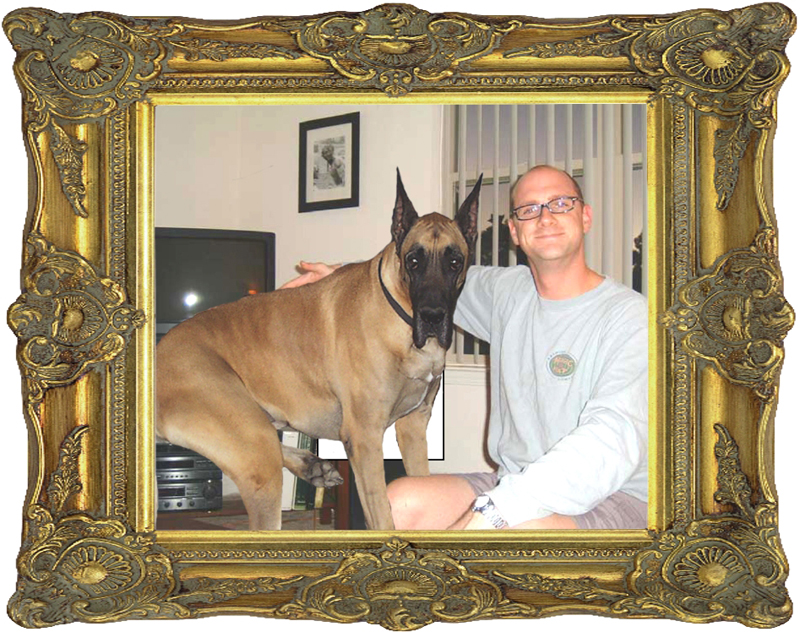 Dear Nathan:

You sound very prepared.

By the way, did I tell you that we have a 50 Gentle Giant special right now?

If you take 50, you don't even have to pay for them.

You just have to care for them for life.

Then, my wife and I can take our honeymoon that we never had, which is only 15 years late.

Regards,

Burt Ward
Gentle Giants Rescue and Adoptions, Inc.
Dear Burt:
It is not me you need to convince.

But, I guarantee the discussion of a honeymoon will never come up between Amy and I if I take you up on the offer.

See you Tuesday.

Nathan

Which Great Dane will Nathan and Amy adopt?

Keep watching our website to find out!

Even we are too excited to guess with such a great home like Nathan's and so many wonderful Gentle Giants!

Stay tuned, same Bat time , same Bat channel for adoption of the greatest Gentle Giant family members!!!!

* * * * * * * * * * *

Nathan and Amy have adopted their Gentle Giant!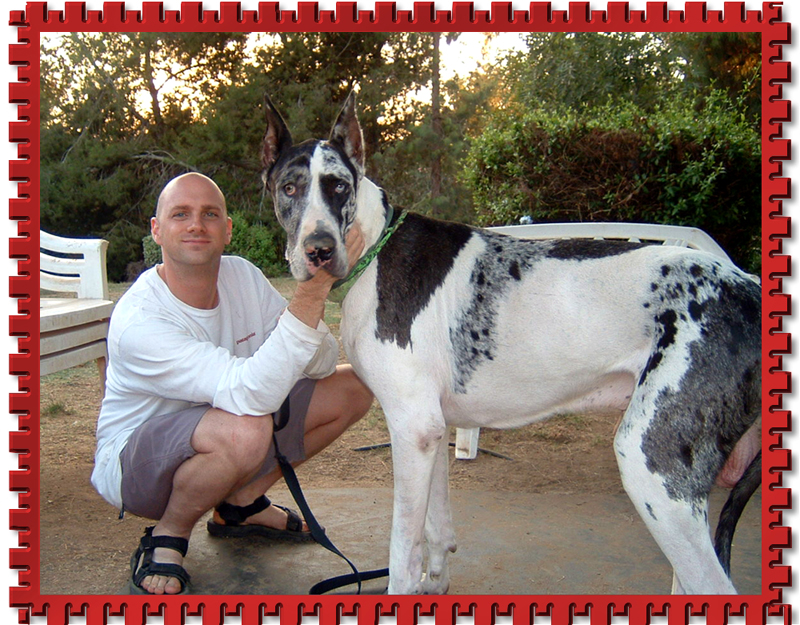 Nathan and Amy adopted "Lucky" a Gentle Giant Harlequin Great Dane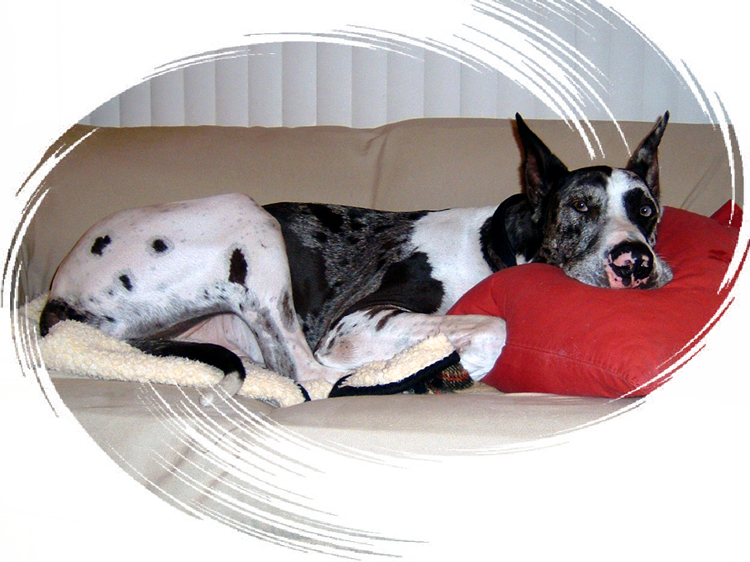 "Lucky" lounges at home

Hello -

We hope all of "Lucky's" friends are doing well on the ranch.

"Lucky" talks about the old times all the time.

It has been such a busy time in the last year.

Time has flown since we met all of you last year.

Well, "Lucky" is enjoying his new home and Amy and I are so happy to have him in our life.

He is so funny.

He has his own traits that we have come to love and consider part of our routine and family life.

Two favorites are his sleep barking while he is passed out at night at the foot of the bed and the head shake when he comes
in from a walk.

I love coming home every day and finding "Lucky" waiting at the top of the stairs wagging the tail on high speed.

One of my favorite parts of the day is getting up each morning to go for a walk with "Lucky."

We go over to the soccer fields and he gets to go off his lease and walk around smelling the grasses and inspecting the trees.

So far we have been camping, to the beach, hiking and spent a bunch of time just hanging out with "Lucky" zonked out on his couch.

We hope you are well.

Please find attached a few photos of "Lucky" over the past few months.

Nathan, Amy and "Lucky"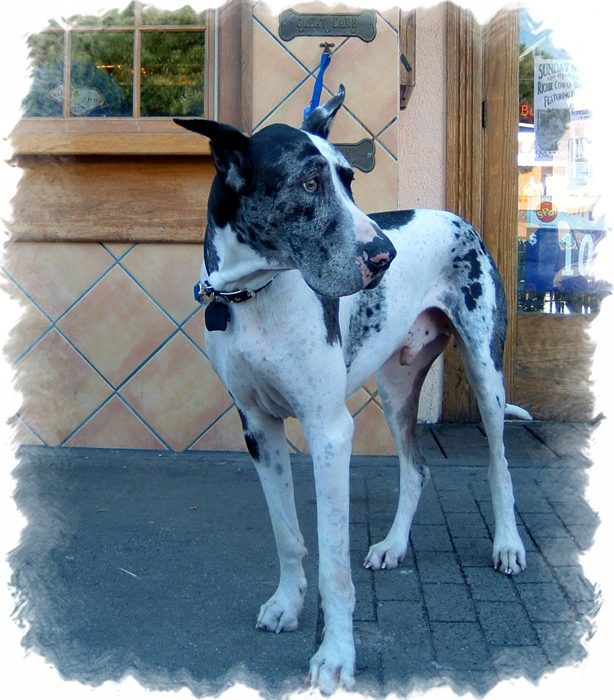 "Lucky" anxiously waits to go to the beach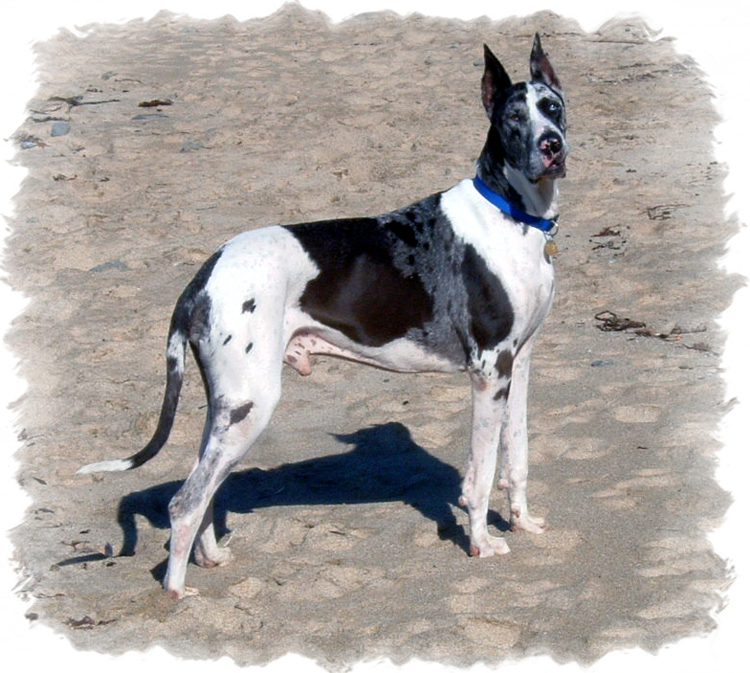 "Lucky" says "C'mon . . . C'mon . . ."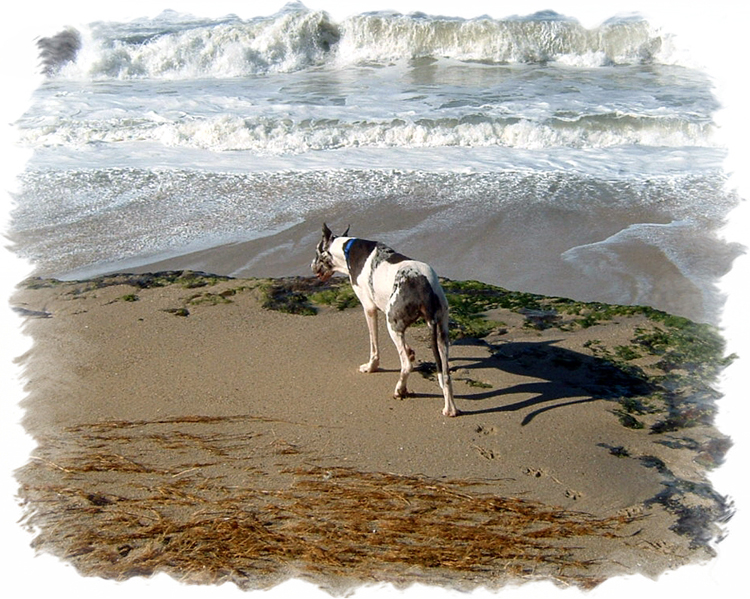 "Lucky" heads for the water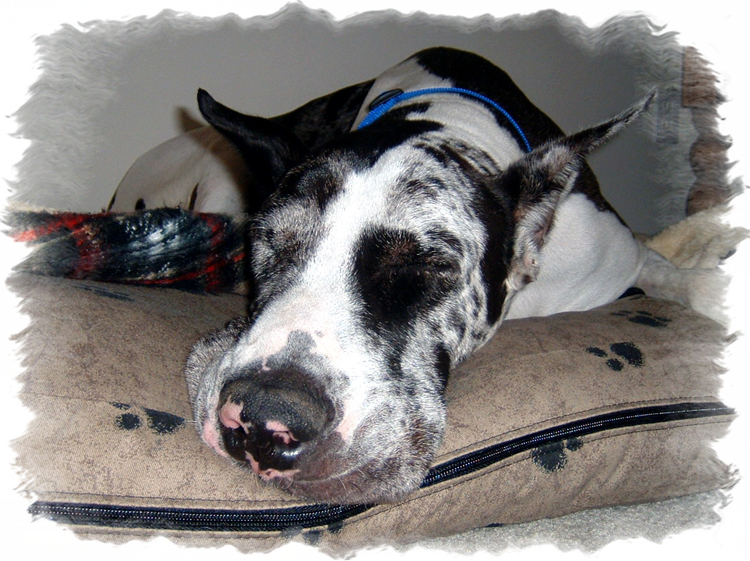 "Lucky" naps after all his exercise