Gentle Giants Rescue and Adoptions - Adopting a Gentle Giant and a Little Giant - Your Adoption Appointment - Page 2 of 3
Go to Page 1 · Page 2 · Page 3


YOUR ADOPTION APPOINTMENT
The adoption process here at Gentle Giants takes time, but remember, you are adding a very important new member to your family. Here is a brief description of how it works:
You will need to arrive at our sanctuary on the day of your adoption appointment at 3:00 p.m. or shortly thereafter. You will be directed to park in our back parking area. There is plenty of shaded parking.
After parking, please remain in your vehicle until Burt, Tracy or Melody comes out to meet you. At that time, if you have brought your dog, you will be shown where you can walk your dog, give them water, etc. prior to beginning the adoption. We ask that everyone else will remain in their vehicle. If you need to use the restroom at any time, you will be escorted to a bathroom.
When you are back from walking your dog, please place your dog back in your vehicle with the windows all around partially down to provide your dog with plenty of fresh air.
You and everyone with you will be given a Liability Release to sign (families can all sign the same form). When you turn in your signed Liability Release, you and your family will be escorted into the adoption area and may take a seat on one of the white benches provided.
Tracy will come out shortly to meet and greet everyone. She will want to know what breed of dog that you are interested in. If you are interested in more than one breed, that's fine, tell her every breed that you want to see. Tracy will also want to know what other animals that you have at home, if there is anyone else living in your home that isn't at the adoption appointment with you, and any specific requests or concerns or preferences that you may have, if you have any.
With everyone seated, Tracy will let out our welcoming committee - an energetic, lovable herd of four-legged Gentle Giant and Little Giant greeters - Great Danes, Borzoi, Mastiffs, St. Bernards, Great Pyrenees, Irish Wolfhounds, Newfoundlands, Greyhounds, Xoloitzcuintle, Whippets, etc. - all together and all extremely affectionate and wanting your immediate attention (please dress casually). Don't be surprised if you suddenly find a 200 lb Gentle Giant sitting in your lap or leaning against you or trying to kiss you. These are really affectionate dogs and they are wonderful with adults and children (those with little children should hold them in their laps). You will notice that none of the dogs will bark, as we have trained them not to, unless you are in danger.
Meeting our herd of Gentle Giants and Little Giants will show you what adult dogs will look like when fully developed and mature. You will likely be getting a younger dog that is still in its growing stage and this will provide you with an opportunity to see what you can look forward to. This also will acquaint you with each of the various breeds up close and personal.
Tracy will then bring our herd back inside and begin showing you the Gentle Giants and Little Giants for adoption, including some of the members of our herd. Tracy will bring one dog out at a time, and you will have a chance to meet each dog and ask questions. At any time during the introduction process, you may select a dog for immediate adoption. At that point, Tracy will fill in the pertinent information for that dog in our Adoption Agreement. She will then read and explain each term of the Adoption Agreement for you and for everyone to hear and to ask questions about, if any. She will also explain in great detail the proper care for your Gentle Giant or Little Giant, and answer all of your questions.

Tracy will complete your adoption by placing a microchip in your adopted dog and taking a photo of you and your family together with your new Gentle Giant or Little Giant family member. If you have brought a dog, cat or other animal with you, Tracy will show you the proper way to introduce your newly adopted dog to your pet and will do the introductions of the dogs together, so that the dogs "accept" each other, and so that when you drive home, your dogs will go home already as friends. You may then leave with your Gentle Giant(s) or Little Giant(s).
As each adopter selects their one or more dogs for adoption, Tracy will complete their paperwork, and they may leave.

All of our dogs (except our youngest puppies) are housebroken and behaviorally trained by us to be easily handled and to get along with adults, children, and all other animals.

You are selecting the Gentle Giant(s) or Little Giant(s) of your choice. You can select the 1st one or the 25th one, so depending on which one that you select will depend on how long you are here. We have had people that are here for less than 1 hour, and we have had other people who fall in love with every dog that they see and who have a hard time deciding which one to adopt when they want to take them all home, and those people can be here a very long time. At any time, you can ask Tracy to bring back out a dog that you have already seen to see again, if you think that you are close to making a decision.
We don't rush anyone. We understand how important a decision this is for you, and we will allow you to stay as long as you wish. If you have brought children, they will likely get hungry and thirsty (adults do, too), so if you are inclined to do so, please bring a snack and drinks or whatever else that you wish.
Also, nights can get very cold here, so be sure that you bring coats and/or a blanket, so that, if necessary, you and your family will stay warm and comfortable.

Remember, once that you have adopted a Gentle Giant and/or Little Giant from us, for the entire lifetime of your adopted dog, you may call us 24 hours a day, 7 days a week, with any questions or problems, and we will try to help you. There is no charge for our help. We love our Gentle Giants and Little Giants, every one of them! This is our charity and our life's work!

We look forward to seeing you and finding you the 'dog of your dreams!'

Best regards,
Gentle Giants Rescue and Adoptions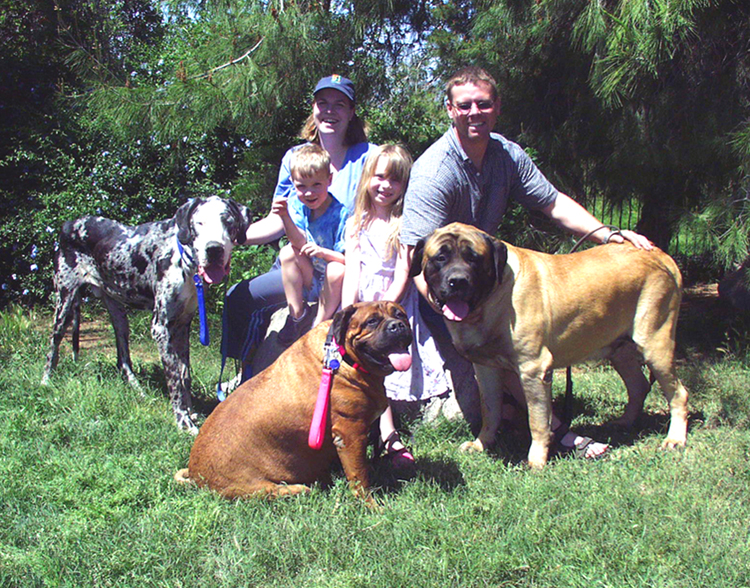 Dear Tracy and Burt,
Thank you so much for giving us the opportunity to adopt these wonderful loving Gentle Giants - "Cody" "Jewels" (a.k.a. Cupid), and "Lola."

After being on a few local adoption waiting lists, we came across your website in our search for adopting a dog or two. We were pretty set on Mastiffs and a Great Dane. When I found that you usually have approximately 50 Gentle Giants at all times, and read about all the wonderful care and dedication that you have for these animals, I knew that we had found the right place.
We live in Vancouver , WA , so it was going to be a journey going to Southern California , but a very worth while trip. We looked at all the options . . . getting to your Gentle Giant Rescue would be easy . . . it was how to bring home our new giant pets that needed brainstorming.
We decided on last minute shopping for an RV which meant a 15 1/2 hour direct drive time and 1,032.72 miles each way.
Our trip was adventurous to say the least. When we left Vancouver , we had owned this 27' RV monster for less than 24 hours, and being our first RV, we knew nothing of how it operated. We were enjoying the trip pretty well . . . the sunshine, the beautiful mountains . . . then realized we were having some difficulties with our new purchase. We couldn't figure out the heater which seemed to be running full blast all the time, so in the California sunshine, for Pacific North Westerners, this was an issue.
Finally, we were on our way. Unfortunately, I missed the exit for I-210 somewhere along the way and instead of finding ourselves in Norco, CA, we were in Norwalk, CA, quite a few miles off track. We quickly rerouted and called Burt and got new directions from our location.
At last we arrived. All the dogs we saw were beautiful! I wanted to bring so many pups home! Tracy knew just the ones to show us that worked with our young family, and my son's energy level . . . which actually worked out great!
It helped us decide which pups blended best with us even in my son's best moments! My husband who kept going back to wanting 2 dogs couldn't leave without the 3 we choose (honestly we almost picked 4). Within moments we knew exactly which ones clicked with us. My daughter had her sights set on both the Great Pyrenees, which were all so loving it was hard not to give into my daughter's wishes, but she was so totally in love with Lola, the Bullmastiff, too!
We came back in the morning. to adopt, and we knew we wanted the same 3 that we had picked the night before ("Cody" the 240 lb English Mastiff - "Jewels" the giant Black Marbled Harlequin Boston/Mantle Great Dane - and "Lola" the adorable Bullmastiff). We received loads of great information and also meds for the Dane, and were on our way after a little paperwork and photos.
We could hardly believe it! What we had been waiting for and searching for had finally happened. We made it! We had our new companions! They fit so perfectly with our family, too!
On the way home we rested overnight (approximately 3 hours) at a camp ground, smiled ear to ear while walking the dogs around our RV site before getting some sleep.
And on the way home, "Cody" (240 lb English Mastiff) stood up front between Sam and I watching the road the whole trip back. He wouldn't leave my husbands side or sleep unless my husband was sleeping! He was definitely bonding right away!
We are just so happy to be back home now with our lovely and absolutely Gorgeous Pups!
Thank you so much. We are just so thrilled to have these wonderful Gentle Giants added into our family!

I can't believe that we waited this long, but I now I think it was meant to be! Everything that happened along the way turned out to be solvable. I mean we could have broken down in the middle of nowhere land or had such a bad break down that it could have postponed our trip. It was so wonderful to meet you both, and we are feeling very lucky to have found you!
It is obvious that you are very dedicated to your cause and I can't imagine having adopted from anywhere else. The dogs are trained, obviously greatly cared for, and it shows that you take great care to adopt the rescues to homes that are a good match. This was a great experience, and even if we knew what would have happened along the way, we would have done it again in a heart beat!

And be assured that we will be taking great care of our new family members! We love them very much.
Thanks for everything, including the great 'at home' advise, too! We look forward to adopting another Mastiff (pup) from you when available.
Best Wishes!
Sincerely,
Janet, Sam, Tyhler and Loren
The Heniken Family
Vancouver , WA
P.S. Let us know when you've started production of your 'Gentle Giants Rescue and Adoptions Super Premium Canine Cuisine' dog food. We'd love to set up timed shipments.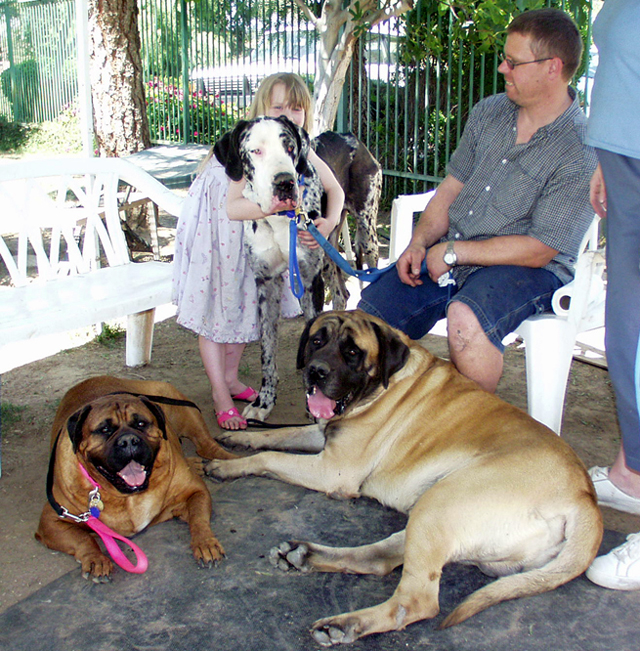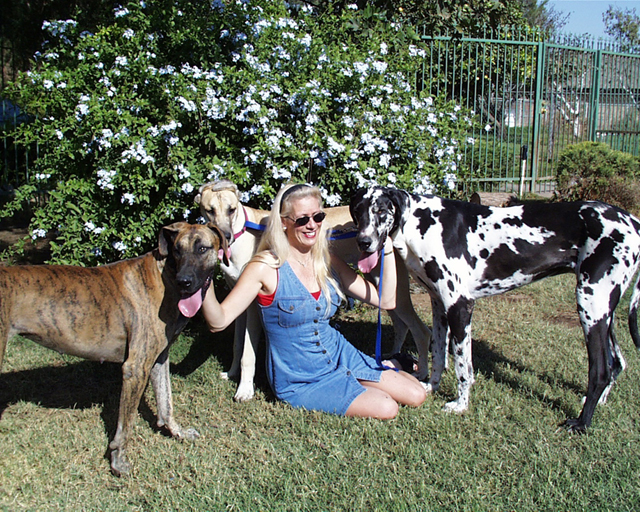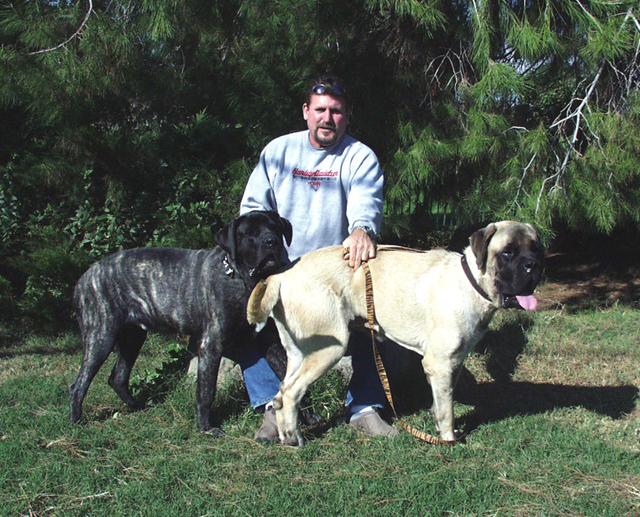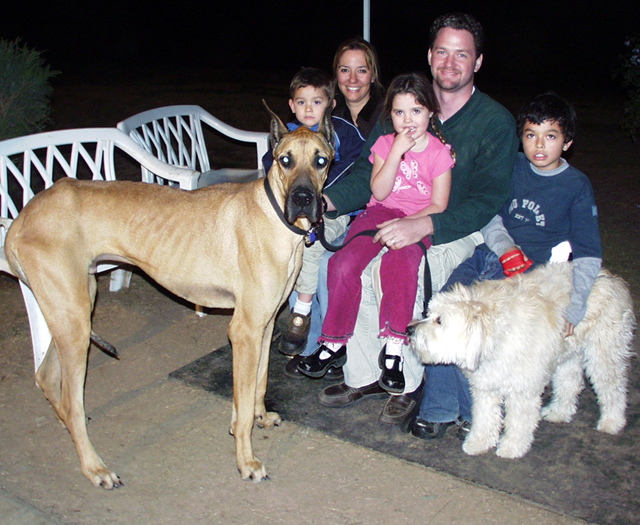 "Rex" gets a new family


Thank you for the conversation today.

We are so pleased to have "Rex" as part of our family.

He is so loving.

The kids love him.

The unfortunate thing is that he thinks he is a lap dog and often attempts to sit in one of our laps.

We let him for as long as we can stand it.

The good thing is that when he is on the couch, despite his size, he curls up into one small section and leaves the rest of the couch for the rest of the family.

We have added a new member to the family, "Lucy," who is a Fawn colored Great Dane and she is seven months old.

We will send a new family picture with her included as soon as we can.

Claud, Wendy, Archie, Ella, Daphne, Jack, "Rex" "Scooch" and "Lucy"



. . . including a new sister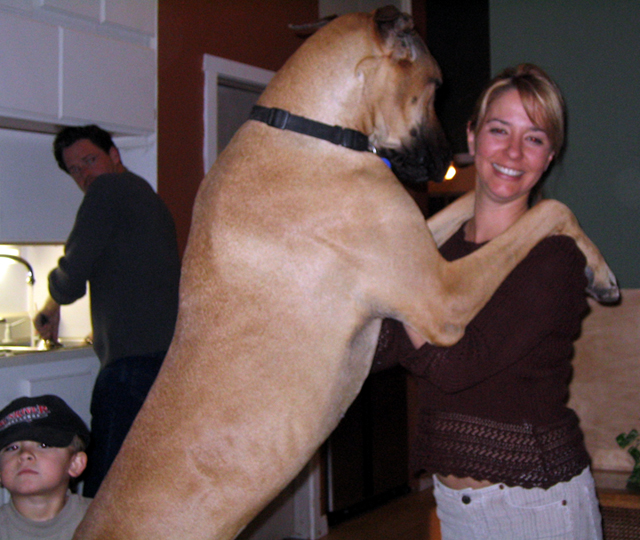 . . . including a new Mom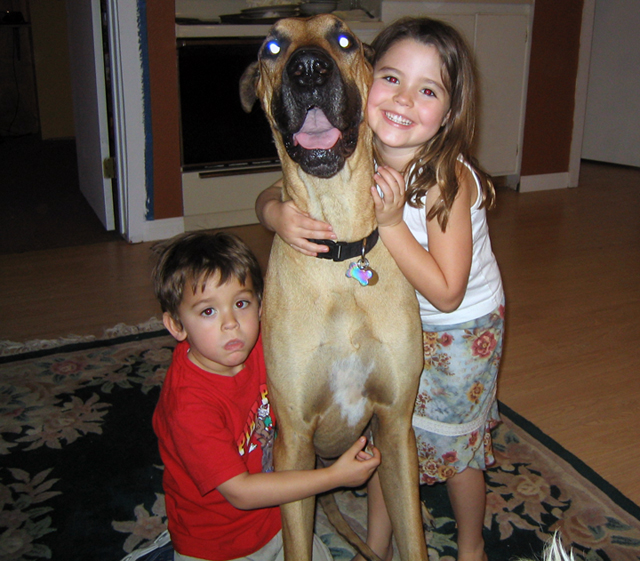 . . . and a new Brother and Sister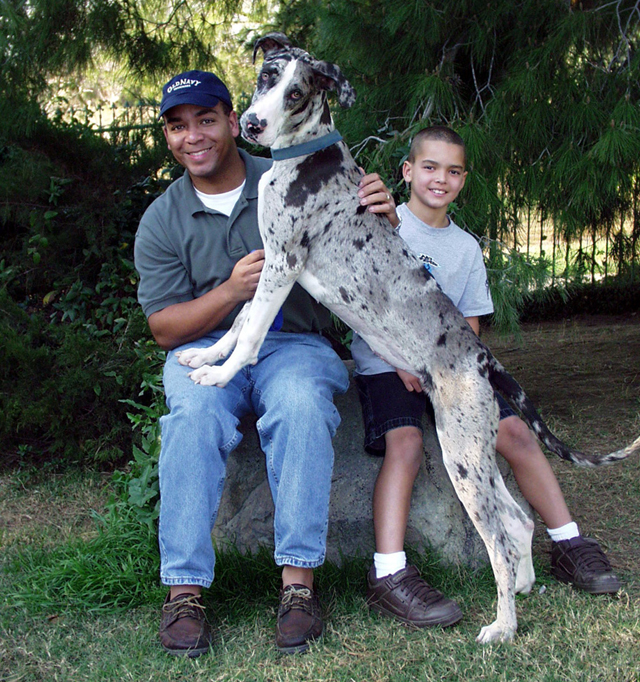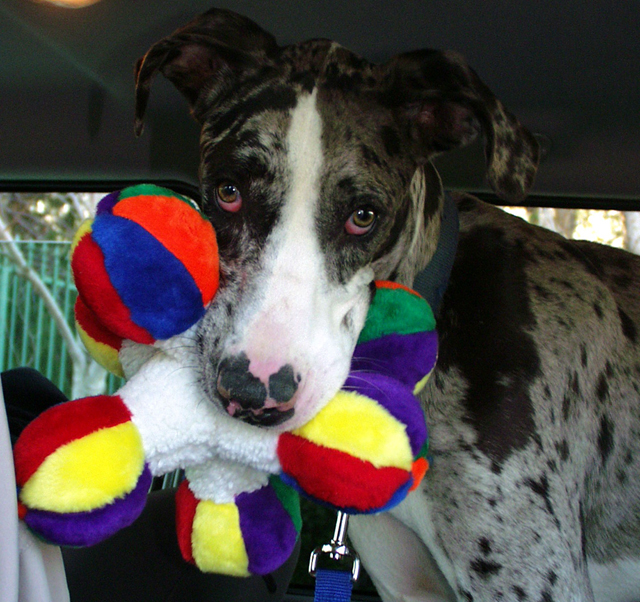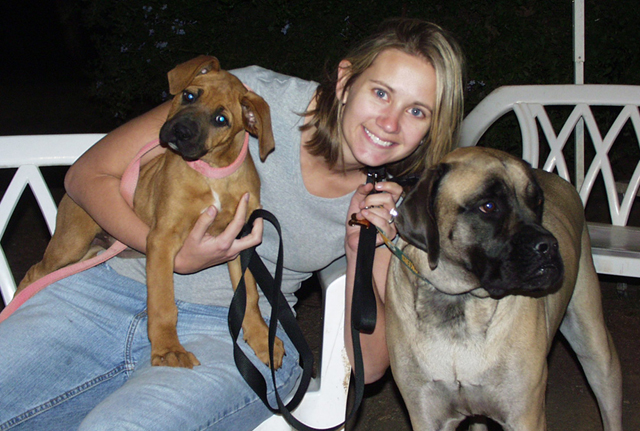 Gentle Giants Rescue and Adoptions - Adopting a Gentle Giant and a Little Giant - Your Adoption Appointment - Page 2 of 3
Go to Page 1 · Page 2 · Page 3