Gentle Giants Rescue and Adoptions - Your Emails, Your Letters, and Your Photos - Page 1 of 3
Go to Page 1 · Page 2 · Page 3

Hello,

I was completing the pre-application questionnaire and am stumbling on the question about poisonous plants. I looked up poisonous plants on the ASPCA website and recognized the names of several plants I know are in our yard (

specifically schefflera, oleander, bird of paradise, and asparagus fern

), but there are many plants in our yard and on the website that I am unfamiliar with. The degree of danger ranges from dermatitis to death.

We want to be as responsible as possible in preparing for a new family member. Are there plants that are of particular concern?

We have been battling the asparagus fern for over a year now and it turns out to be an insidious and crafty survivor, almost to the point of earning respect.

I'm going to go ahead an answer that question affirmatively, so I can continue to the application. If approved, we can discuss further with you whether we can make our yard safe enough.

Thank you,

The Slizza Family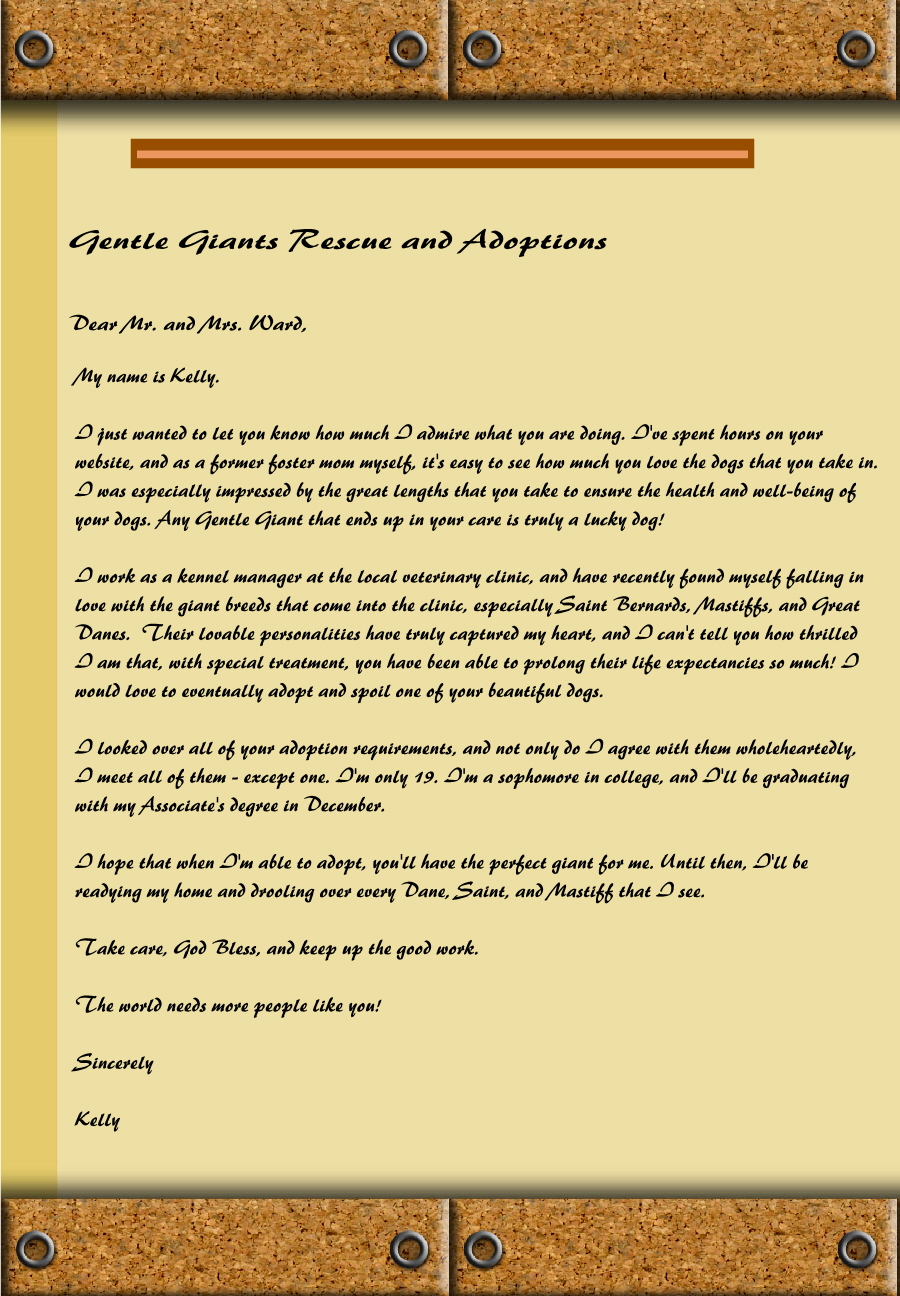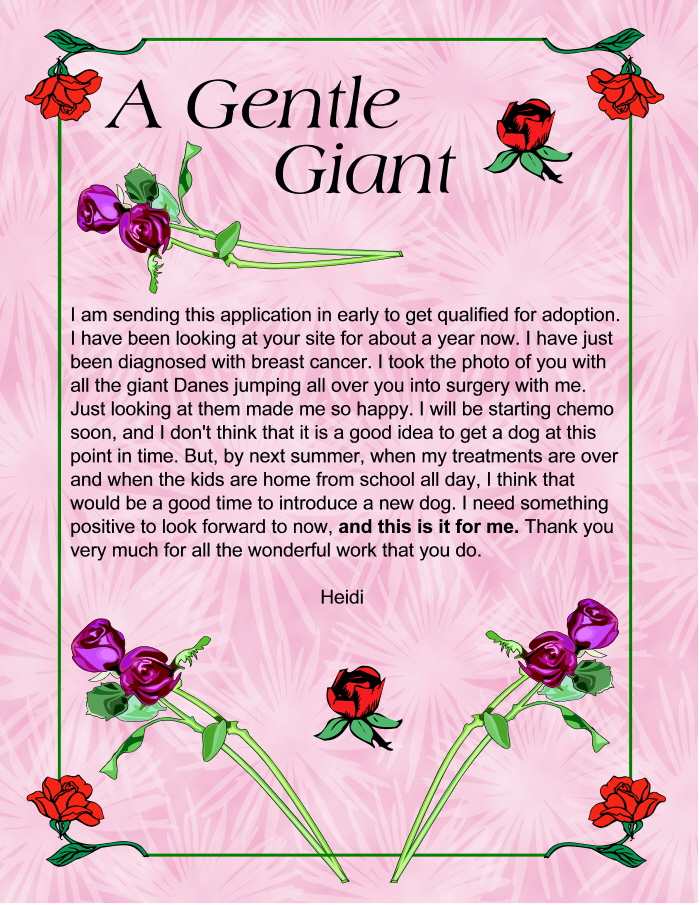 Hi Burt and Tracy!

I wanted to forward a family picture recently taken!

We have now had "Lucky" for 6 months and she has acclimated to our family and home so well . . . we could not imagine life without her!

She is truly a special dog (I call her my furry child). We feel very blessed to be sharing our home with her!

If it was not for my husband, I would take you up on your offer to take all the dogs from you.

The time and effort you put into every animal and every person that adopts one is really amazing.

I take "Lucky" with me almost everywhere, and people are always commenting on how beautiful and gentle she is.

We tell everyone about Gentle Giants Rescue and the wonderful work that you guys do!

I am sure a few of them have adopted dogs from you because of "Lucky." She is a live advertisement for your rescue!

I pray that you continue your work so that every Gentle Giant can be saved.

Thank you.

Ejaye Sadri and "Lucky"

P.S. I do not know what your requirements or needs are for a volunteer are, but if I could bring Lucky with me, I would be available 1-2 times per month for whatever. Let me know.

Again, thank you for the opportunity to love "Lucky!"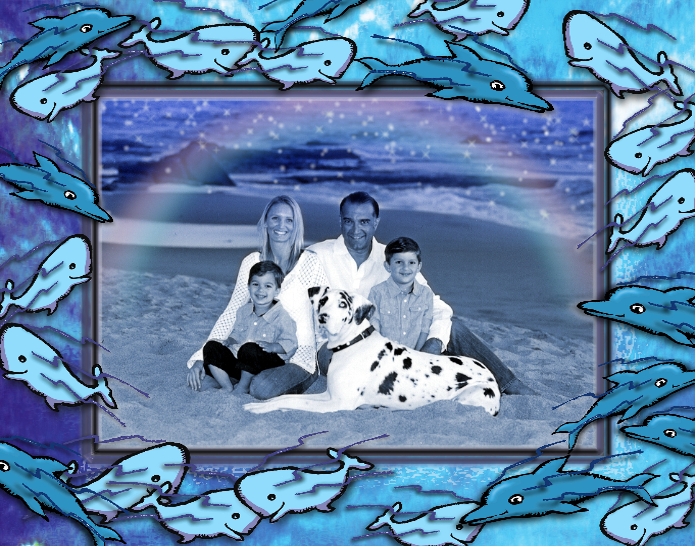 "Lucky" and the Sadri Family

Dear Burt and Tracy:

Well, everything you told us has come true. "Baby" is a perfect dog. He doesn't bark, dig, bite, or chew.

He just wants to be with me. Like I said before, he is perfect! I can't believe that you can love something so much that you just met.

We are coming back. "Baby" has been just perfect. So, we are coming back for another one.

What you two are doing is remarkable. You both have definitely found your place in heaven.

I feel very honored to have met you and have one of your dogs. We picked out a perfect one.

You should have seen him last night when we went riding. He loves the horses and they love him.

Oh, and the cat, they are getting along just great.

Thank you so much. I can't wait to see you again tonight at 5:00 p.m.

Thanks,

Penni Miner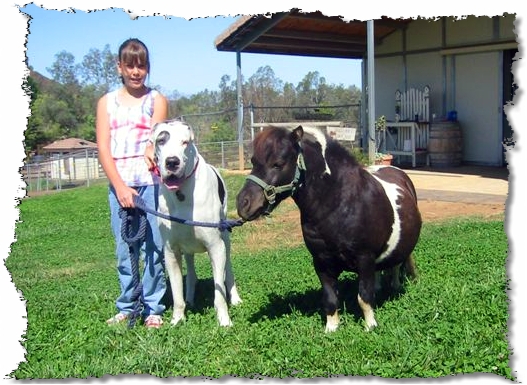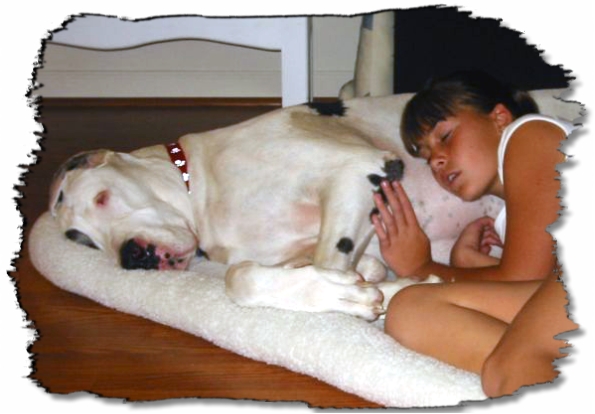 Hi Tracy and Burt,

Hope all is well.

Just a short note to let you know how "Baby" is doing.

I am back to work and he misses me, however is getting very attached to Tom.

He is the best dog ever.

I have gave your web site to a lot of people hope they have come and adopted a dog.

Take care, hope to see you soon.

Penni Y. Miner
Green Acres Ranch
Hi Tracy,

Thank you for allowing us the opportunity to become "Brittney's" new family!

The ride home and her first day here went great!

She does seem to be a perfect match for "Kirby" (our Saint Bernard).

We just let her sniff and roam the inside and out yesterday as she wanted.

"Kirby" was her buddy and followed her throughout the tour!

We only took one 'Welcome Home' pic for now and I have attached it.

Richard seems to think we may have the same forehead and dimples. I don't see it, but see what you think!

Once she has settled, we will take more pics and forward.

Thank you again, for your efforts to save the Gentle Giants and for helping us select the right dog for our family!!

Cindy Loucks

P.S. We caught you on Animal Planet's Adoption Tales this morning. The show reflected our experience (a wonderful one) and we look forward to adopting more from you soon!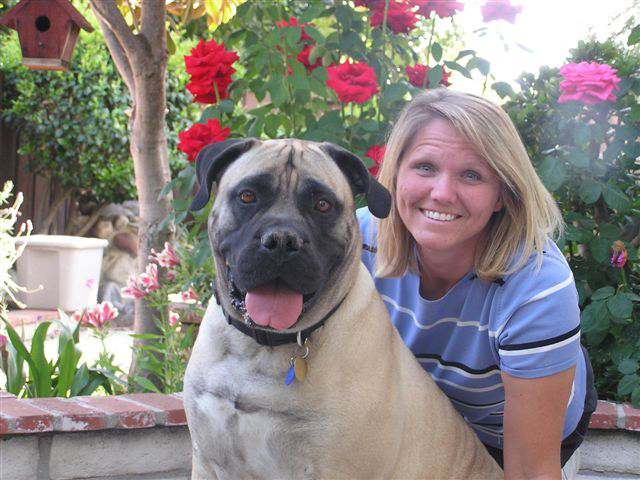 Dear Tracy,

What a beautiful website!!!!

It is by far the best website for Danes I have ever seen!

And trust me when I say this . . . for all I have done for the past 4 months is stay up 'til wee hours in the morning looking at sites about these most wonderful dogs.

I have never had such a 'passion' for one particular breed as great danes!!

We are a multi pet household having 4 dogs and 3 cats, and now a ferret.

I saw your T.V. special and was amazed at the number of dogs you have on your estate and how well they all get along.

Great danes are the most beautiful things I have ever seen!

I was also suprised to see that you adopt to people all over the U.S., and now its my determination to make a trip to California!

I would sooo love to adopt one of these wonderful dogs and can't wait to add one to our family.

I have done my research on the net and in books and even visited dane homes!!

Now it's my turn, and I can't wait til that day comes! Its like waiting on a new baby to arrive!

I just wanted to tell you how much you and Burt have truly made a difference in so many "doggie" lives . . . but, this I'm sure you already know.

The work you do for them all is unbelievable, and I am so glad that there are people like you and I and so many others that do what they can without question or thought for the "little guys" with no voice or say in what happens to them.

Bless their hearts.

Keep up all the great work you have done and are continuing to do for ALL the Gentle Giants!!!

Great job . . . keep it up !

Jamie Cartwright



Dear Tracy:

Thank you so much for the wonderful experience and your warm hospitality.

We arrived back home late last night and "Diamond" came running in the house like she knew that she was home.

She is wonderful travel companion and is in total love with my oldest son.

Today, the two of us are home alone and we are having our chance to bond.

She is currently laying by my feet in the office as I write this e-mail to you.

We will send pictures soon and keep you updated on her progress her at home.

Thank you again.

Sincerely,

Cindy Austin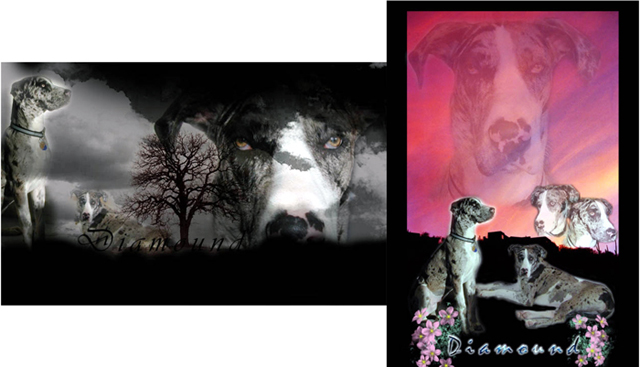 Dear Tracy, Burt and Melody:

I just saw your show on Animal Planet and wanted to write and congratulate you on your devotion to the Large Lap Dogs.

At our little place in Minnesota, we have 2 Rescue dogs and 1 Rescue cat.

It's true that larger dogs are sometimes hard to place, but with the right foster parents and willingness to wait, they too can find homes.

Our Large Lap Dog is a Rottweiler/Lab mix and even though she is not as big as your dogs are, she had the stigma of Rottweiler - 'mean' attached to her.

She was in foster care for quite some time but we fell in love with her and she is now a member of our family.

My point to any prospective adoptive parents, do not be turned away by size or color.

Try to think of it this way, the bigger the dog, the bigger the kisses!!!!

Melody is such a lucky girl to grow up in a nurturing, respectful environment.

Congratulations to you and to Burt for coming back and being able to use his past employment as "Robin, the Boy Wonder" to draw attention to the true Superheroes you all are!!!!

God really does have a special place in heaven for those who care for his creatures.

By the way, I always did think that "Robin" was the 'cuter' of the 2 heroes!
Keep up the good work!

Marybeth Riebe



Hi Tracy,

It's Lisa VanBuhler (previously from Great Dane Rescue of Northern California).

I LOVE your new website.

Being on bedrest with my pregnancy, I'm on the net all the time and I just stumbled on it today.

I love ALL the pictures.

I think they make a great difference to websites!

Good job!

Lisa



Hi Tracy,

Finally caught you guys April 30th on Animal Planet.

It was really a great story of the entire Great Dane adoption process.

You, Burt and Melody are a truly wonderful and dedicated family.

Here are some snapshots I took of the grandkids and our beautiful "Sushi" whom we adopted from you about 5 years ago.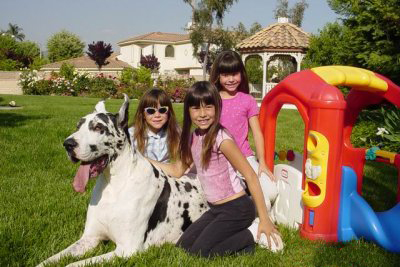 Samantha, Dani and Marissa with "Sushi"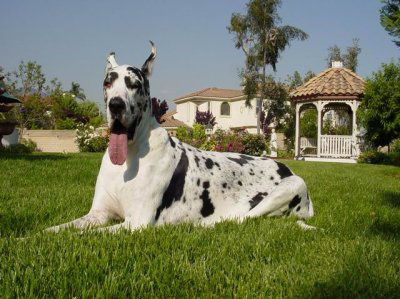 "Sushi" working hard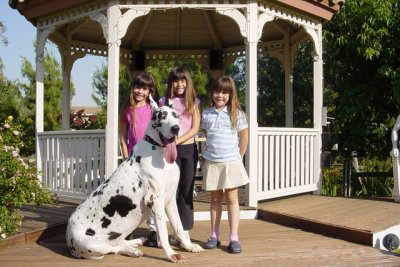 The girls with "Sushi"


We will see you in a couple of weeks!

Hinland and Silvia

Please Note: Gentle Giants Rescue and Adoptions, Inc. reserves the right to make changes, additions, deletions and/or modifications to its website, documentation, requirements and policies at any time.
All such changes, additions, deletions and/or modifications to its website, documentation, requirements and policies may apply retroactively at the discretion of the company.

© Copyright 2003-2012 Gentle Giants Rescue and Adoptions, Inc. All Rights Reserved.