Gentle Giants Rescue and Adoptions - Your Emails, Your Letters, and Your Photos - Page 2 of 3
Go to Page 1 · Page 2 · Page 3


Dear Tracy and Burt,

Thought I'd drop you a note to let you know that "Cooper" (his new name is "Brett") whom we adopted October 31st is doing great!!

What an incredible well-behaved, well-mannered, intelligent 14 month old sweetheart!

He hasn't done one little thing wrong at all, much to our surprise given his age and size, he's watching me type this letter to you with his head laying on my arm.

He is adapting very well to us and has fallen head over heels for Duane (my husband), he sticks to him like glue when he's home.

He gently woke me last night at midnight, gave me a little snort first and a gentle nudge with his nose to tell us he had to go potty (has a little nervous tummy still) outside, which I thought was awesome!!

I'm getting some photos developed today and will be able to upload them to send some to you!

Thank you for allowing this wonderful experience!!

You are truly gifted to do the amazing thing you do with all of these special Gentle Giants!

We will be seeing you again in the future

I'll write again very soon with some photos!!

Thanks again,

Duane, Tara, Ariel, Savannah and Hayden Wisehart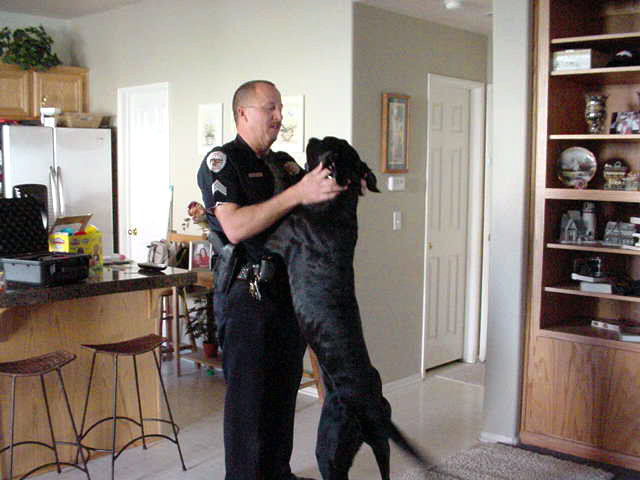 Dear Burt and Tracy,

We have had a fantastic 3 days with our new family addition.

We have renamed "Cooper" to "Brett" (for Brett Favre of the Green Bay Packers).

The whole family has fallen in love with "Brett" . . . and it seems to be mutual.

He has adapted well to the home and his surroundings, and loves to lie on his new bed in the living room and snooze (with an occasional glance at the TV).

We've had no regrets and no problems with him at all.

We took a few photos, but will send more when "Brett" decides to 'pose' more cooperatively (he wants to hold the camera, I think . . . ha ha).

Thanks for our great dog, and for all you do!

Duane and Tara Wisehart and kids
Tracy and Burt:
We can't believe that it has been so long already.

Just a quick note to let you know that "Gracie" is still doing just fine.

I think that we are the only people who know that she is deaf.

As seen in the photo below, we even see more than a passing resemblance . . . ha!!
Hoping things are going well with you.
Francis, Richard and Gracie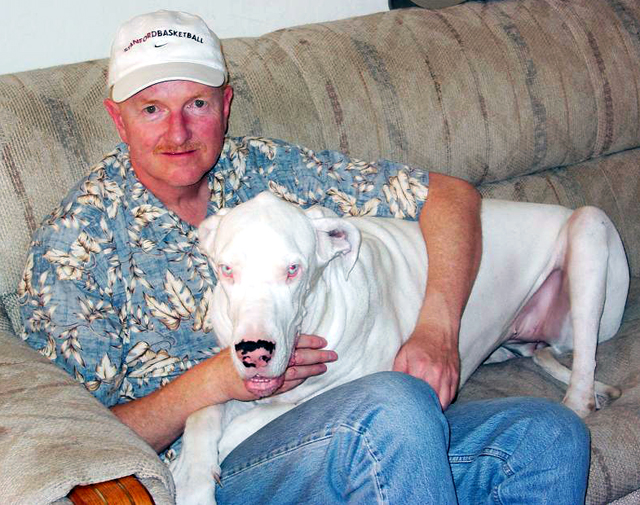 "Gracie" proves that she is a 'couch potato'
Hi,

I am BMC (SW/AW) Jeffrey Shunk of the US Navy.

I was visiting your site looking for a Great Pyrenees for my wife (ours died of old age about 3 years ago and she is now ready for another).

However on this Christmas Eve as I surf the web while on duty aboard the USS Enterprise, I was taken in by the beginnings of your page, and your support of our US troops.

I am the Ships safety chief and am responsible to try and make an aircraft carrier a safer work environment for the 5 thousand plus that sail on her.

Thank you from the heart for caring enough to put it on the website.

I also will keep your place in mind as I try and locate the perfect puppy for my family here in North Carolina (stationed in Norfolk).

Jeffrey Shunk BMC(SW/AW) USN

Dear Tracy and Burt:

I just saw you guys on Animal Planet, and I have to say there is a special place in heaven for people like you.

Doing what you are doing has always been a dream of mine. Unfortunately, being a single mother of 3 keeps me from it.

Many kudos and prayers to you and your family!!!

God Bless you,

Terri



Dear Tracy,
When I was a pre-teen, I always thought of your husband as my hero. Now, as an adult, along with you and your daughter, I consider him more of a hero. I watched your segment on Animal Planet.

In Augest, 1999, I moved to Washington state from Mississippi with my husband and son. I had become disabled due to illness.

What you are doing is so very important. You are putting families together. I think that God has a special place for people like you.

Little did I know that someone who once said, "Holy hole-in-a-donut" would have such important work to do when he grew up. Thank you for sharing your story with me.

Tell Burt that anyone with the last name Ward is o.k. in my book.

Sincerely,

Cheryl Anne Ward Pepper



Hey Tracy and Burt,

While I was in Amsterdam with my kids, we got an itch for another dane (don't tell my husband).

"Lucy" turned 6 in Feb! We have 2 other (small dogs) as well.

We can't stop thinking about "Howard" ("Howard Huge") either, and how much we still miss him!!!!

My daughter Samantha, who I think is Melody's age, found your site, and I think we might have to come and visit (this week-end to soon?)!!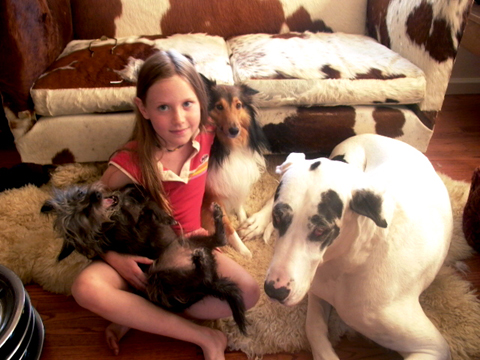 Here's a recent picture of "Lucy" and mates!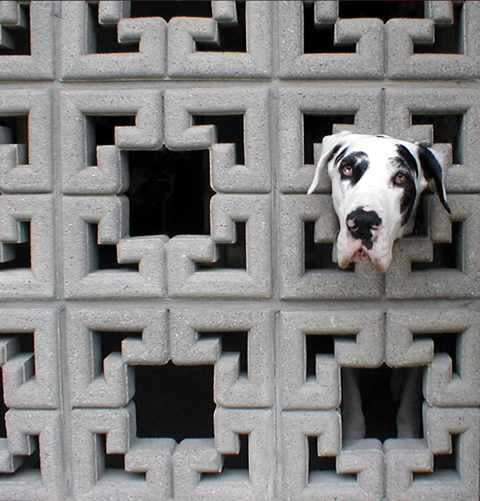 Here's a picture of "Lucy" in jail!


Hope to see you soon!

Ellen LeComte



Dear Burt,
It was such a pleasure talking with you the night before last.

I truly appreciate your personal time and concern.

You provided me with a wealth of knowledge and wisdom.

It is so heart warming knowing that you and your family are saving and touching so many lives; dogs and people both.

After we hung up the phone, I spent hours rereading your website, viewing photos, as well as many others.
I realize that you carefully spend a great deal of time reviewing hundreds of applicants waiting to adopt.

And that you take extra time and care in selecting parents for your kids.

I can't express how much I appreciate you responding to my request so quickly.
Furthermore, I am so touched and inspired by your selfless acts of kindness.

People are amazed when I share your website and stories with them.

You are fulfilling one of my childhood dreams.

I hope someday that I too will be in a position to care, love and shelter other dogs in need of a loving family and a happy home life.

Meanwhile, I would love to help out in any way I can.

As you know, we live in the bay area and I will continue to search for "Gentle Giants" in need of rescuing.

I am willing to volunteer as a Northern California rescue driver.

We have a truck and have the means to aid in any way possible.

Please don't hesitate to contact me if I can be of any assistance.

Thank you for everything; for all that you are and everything that you do.

BURT, TRACY and MELODY,
YOU CONTINUALLY GIVE THE GIFT OF LIFE.
YOU TRULY ARE GUARDIAN ANGELS
SENT FROM ABOVE.

Thank you and God bless,
Laura Klemm



Hi Tracy and Burt,

This is just a note to let you know how we are doing. Mr. "Brutus" is a most remarkable animal, he is quite large and yet super gentle with Linda and Amelia.

He is still bouncy and loves to play 'tug a war.'

And he loves to attack his radial tire which hangs from a tree outside (it was a swing for the kids when they were little) - he loves it.

My son and I love to wrestle with him.

He also loves to sleep with us when allowed on our bed, but mostly at the foot of our bed.

"Brutus" is very smart and seems to read your mind.

He seldom needs correcting, but does not like to be alone.

I guess I just wanted to tell you THANK YOU for a wonderful pet and friend.

Dominick and Linda Grossi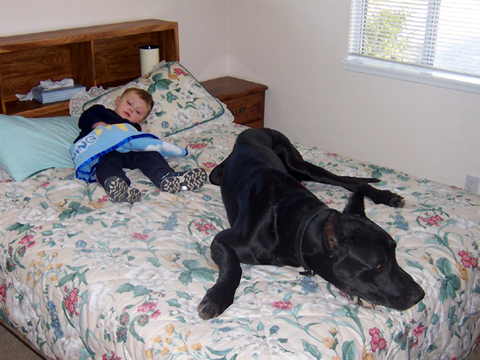 Hi Tracy,

I want to thank you for trusting me with "Herman."

He is a true Gentle Giant.

He is settling in very nicely at my house, which is not as quiet and relaxed as one might expect of an older retired lady.

My youngest grandson, nearly three spends every week day with us, and he and "Herman" take a nap together every afternoon.

"Herman" does like to play and joins in any time there is any running and squealing going on.

He also loves stuffed toys and now he has pulled most of the stuffing out of his whale.

He steals some of the kids toys and runs outside with them.

I have to get him some more toys.

He also likes to play soccer and 'keep away' with balls.

We go for short walks and Toby wants to hold "Herman's" leash and tells every one we see 'His name is "Herman."'

"Herman" sleeps in the family room all evening, then when I go to bed, I move his bed and he spends the rest of the night at the foot of my bed.

When there a lot of people around he keeps track of where I am, but he goes off and plays with the kids too, so I think he's doing very well considering all the recent changes in his life.

My other two grandsons, ages 5 and 7, come here often.

We also go to their home to visit and or babysit.

The first time we visited them and their two dogs, we all went for a short walk together before we went into their house.

"Astro" didn't seem to notice "Herman" at all, but "Luke" a young golden retriever who has never been submissive to anyone in his life, took one look at "Herman" and got as low as he could to the ground and welcomed "Herman" and allowed him to come into his house and explore and even drink his water.

Tracy, thank you very much for volunteering to pay for "Herman's" medical expenses.

I could not have even considered taking him if you had not made that generous offer.

I will take the best care of him that I can for the rest of his life.

Jo Ashley

("Herman" is a Great Dane with Cardiomyopathy that now has a wonderful, loving home)



Dear Ward Family,

I just saw your show on TV, "Adoption Tales."

God Bless you!

What a wonderful thing you do.

You are the true SUPER HEROES!

Sincerely,

Wendy Strus



Dear Tracy,

We are very grateful and lucky to have found "Sasha" and "Prima."

After spending 6 exciting hours searching for a Great Dane that we can take home, we finally found not just one but two very beautiful, adorable and perfect dogs.

"Sasha" is a 7-month old female South African Boerboel Mastiff, and "Prima Donna" the 'Prima Ballerina' is a 10-month old female Basset Hound.

We decided to keep their original names. Who would want to change the name "Prima Donna" the 'Prima Ballerina' anyway?

Our 440 mile drive home to Daly City was a breeze!

We were glad we only packed an overnight bag, an extra large dog bed, some dog food, water, a collar and a leash, this gave us plenty of room the two.

"Sasha" being the shy type that she is, laid down comfortably in the back while "Prima" sat with me and Noelle (our 4-year old daughter).

Remember "Prima" was crying and whining when we left, and Noelle didn't want me to say 'no' to her, nor to tap her on the nose?

Well, a half hour, nonstop belly rubs and 7 lullabies later, "Prima" calmed down and laid quietly on my lap.

The two are adjusting very well in their new home.

You're right, Tracy.

"Prima" loves to wrestle and always makes it a point to bug "Sasha" about it.

At first, "Sasha" ignored her, but the more time they spent together, the more "Sasha" responded positively to "Prima's" calls for attention.

They sleep together and follow us around the house wherever we go.

We are looking forward to raising "Sasha" "Prima" and Noelle together!

We know we are in for so much happiness and love.

With each day that passes, we realize that "Sasha" and "Prima" are truly the perfect addition to our family.

Again, thank you so much Burt and Tracy for raising, caring and loving "Sasha" "Prima" and each and every dog that you rescue.

Thank you for a memorable Valentine's Day!

Looking forward to our next trip to Norco when we are ready to add a new member to our family.

(I still have my eyes on "Honey" your 6 month old fawn Dane, perhaps when she's a bit older, we'll come back for her!)

And don't forget, we are interested in purchasing a copy of your videos.

Please let me know when they become available.

Much love,

Paul, Lara & Noelle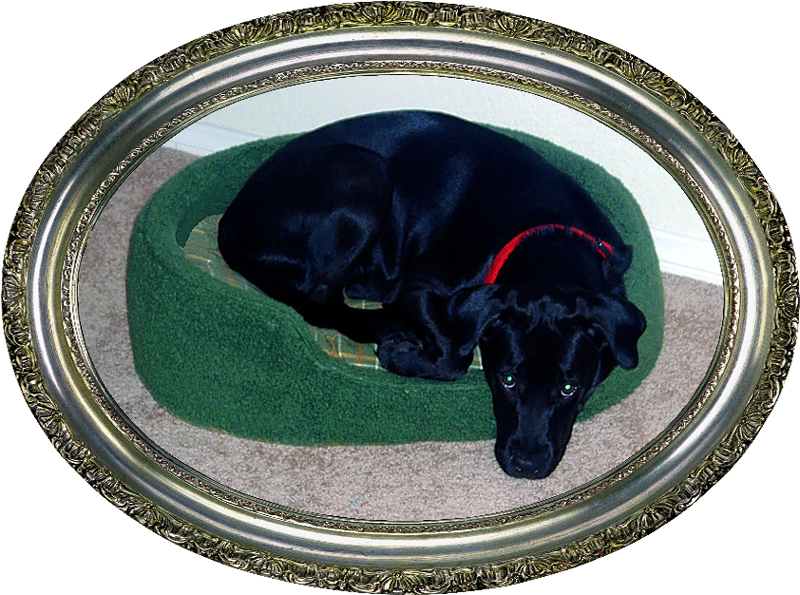 "Sally" a Black 5 month old Great Dane English Mastiff
Puppy overflows her little Sister's bed


Hi Burt and Tracy,

I just wanted to say thank you so much for letting us bring home "Sally."

She's doing great and ruling the roost.

Everyone who meets her can't believe she's a 5 month old puppy.

First of all because she's so big, and second because she is so well behaved.

Here's a picture of her a week after we brought her home, trying to sleep in her little sister's bed.

There will be more to follow!

Thank you again for all the great work that you are doing.

Melissa Baltierra and Chris Burnett



Hello,

Let me first introduce myself.

I am Mrs. Jharna Michaelangelo and I live in Bangalore, India.

We own a great dane named "Danny." He is 4 years old and is a very healthy dog.

We are planning to get a companion for him.

We wish to adopt an English Mastiff puppy.

I was surfing the net and came across your site and decided to mail you.

Please let us know whether you will be able to find us eligible to adopt an English Mastiff puppy from you.

It would be very kind of you if you could reply to this mail.

Looking forward to a positive reply from you.

Regards,

Jharna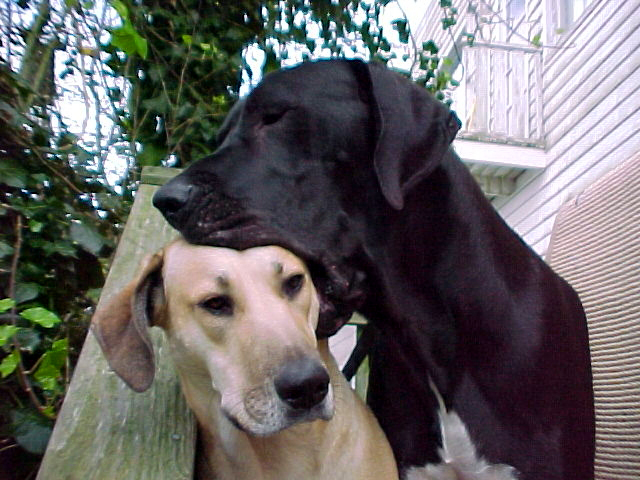 "Justice" administers an affectionate 'head hug' to "Fifi"


Hi Tracy!

How are you?

Busy, busy, I am sure!

Here in San Francisco everything IS GREAT!!!

Ohh, my God . . . do I love my dogs!!!
Thank you SOOO much, Tracy!

"Fifi" and "Justice" are just wonderful!

We are having THE best time ALL the time!

The photos that I am attaching are a few months old.

Will send some more recent ones soon.

Take care, Tracy.

Kerstin Haavimb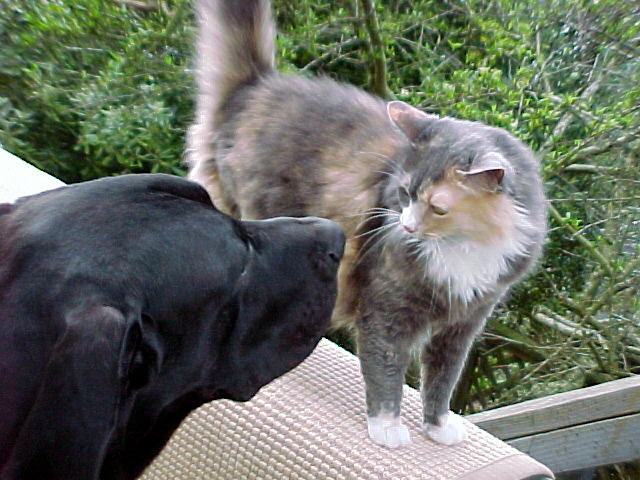 "Justice" visits with the family cat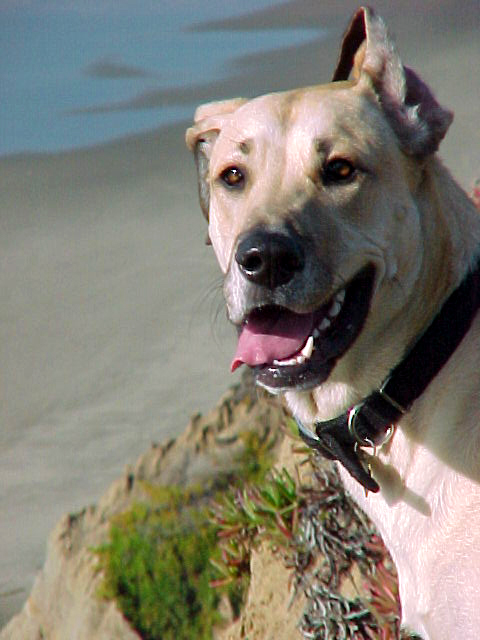 "Fifi" pauses above the beach before a romp in the sand