Gentle Giants Rescue and Adoptions - Holi-Danes, Holi-Giants (Celebrating Holidays and other Special Events) - Page 3 of 3
Go to Page 1 · Page 2 · Page 3
Happy Valentine's Day!
Don't forget to send us your Valentine's Day photos of
your Gentle Giants celebrating this special day!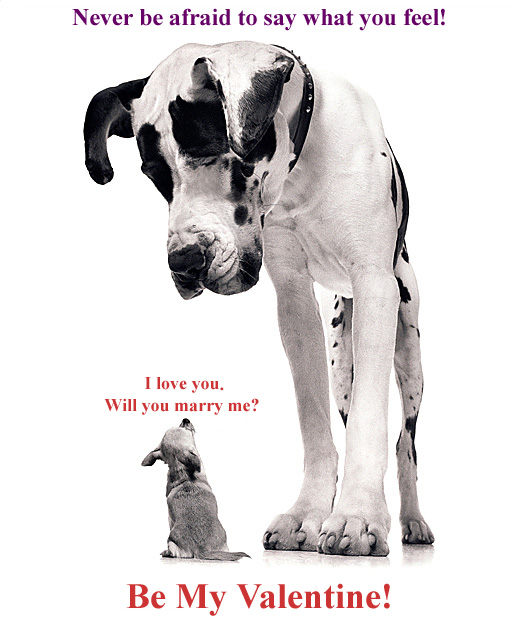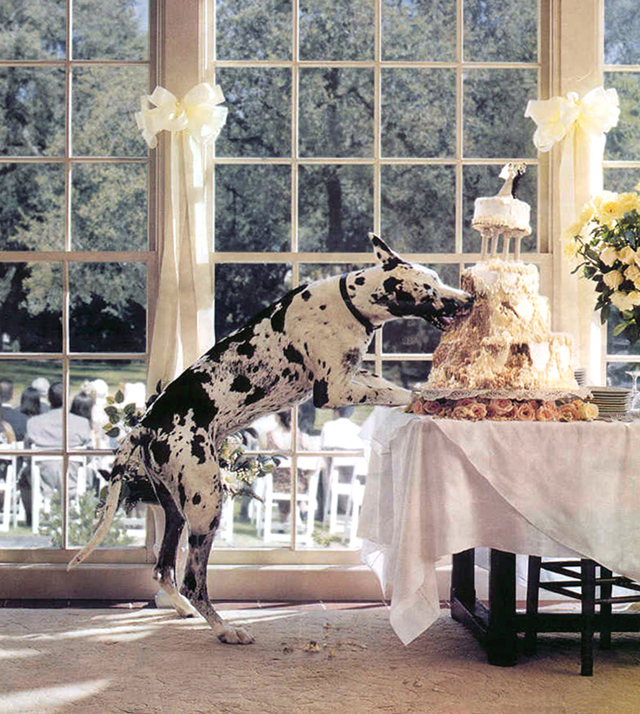 Dane celebrating while wedding is in progress!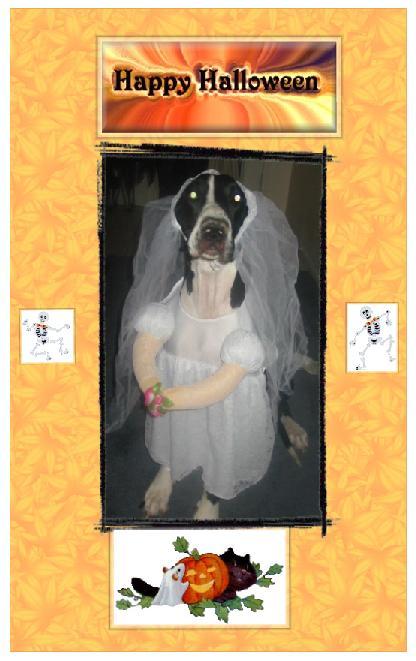 Hi Tracy,

I love the new website.

So many photos of the beautiful Danes you have.

They are gorgeous.

I wanted to send you a picture for your photo album.

"Shamu" went trick-or-treating this year with our girls, and she got many goodies (doggie cookies) and even had her photo taken with some children on the street.

Cars stopped and beeped and she brought many smiles to the neighborhood, as well as to our home.

She was the perfect choice for our family and I am so glad we came out.

You did tell us she was a funny dog, and she has lived up to your description.

We followed your advice about not taking her anywhere around other people for the first two weeks so she could learn to trust and protect us.

Well, that certainly worked!

Anyone that she doesn't know, must pass her inspection before getting past the foyer, and they don't dare try to come any further until she is ready to allow it.

Then, be prepared for a big kiss and two big paws on your shoulders, and a wet nose in your ear (she really loves ears).

Take care, and hope to see more photos on the new site.

We'll probably check it every day, along with all the other Dane sites we look at on a regular basis.

Keep up the GREAT work.

Pam and Glenn Amann
Henderson, NV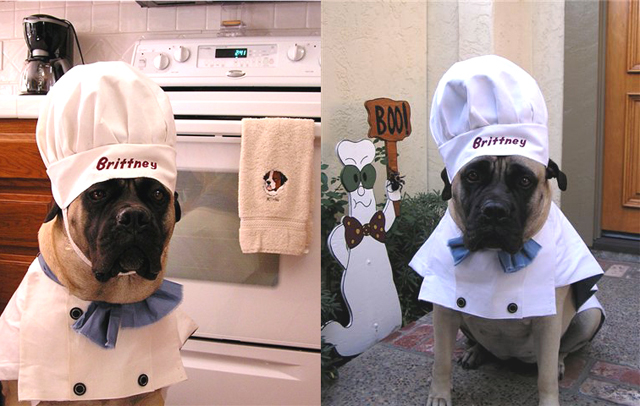 Dear Burt and Tracy,

Just a couple photos to share of Chef "Brittney's" Halloween.

Chef "Brittney" was 'Pawsitively' a hit with the trick or treaters last night!

Hope you enjoy!

Cindy Loucks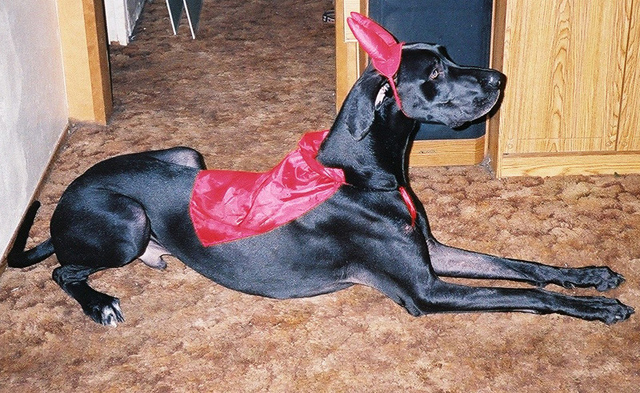 "Julius" dresses as the devil for Halloween


Hi Tracy,

Just thought I'd drop you a little note and a photo.

We have a friend who is currently going through chemotherapy treatments, and the unit that she is in at the hospital allows animals to visit.

On Halloween, we took "Julius" and our German Shepherd to visit her.

We stopped off at the pet store first to have our little dog groomed and the costumes were on sale, so I figured why not dress up for our visit at the hospital.

"Julius" went as a devil.

He was awesome.

He is sometimes scared of things, so I wasn't sure what he would do around IV's and stuff but he was wonderful.

The only thing was she wanted to see his face, and he wanted his butt scratched, so she got his butt most of the time.

He has been incredibly awesome!

There was a kid there about a year old, wearing a lion costume with a big ruff around the face, and I had "Julius" lay down so the kid could pet him.

He was really good, even when the kid leaned in to give him a kiss.

"Julius" has done so well visiting with kids, and other people that I am considering taking him to get his Delta Society certification so he can be a therapy dog.

He did so well putting his head on the hospital beds and stuff that I think he would be very good at that.

Needless to say, he is very loved.

And he gets compliments all the time.

I even took him with me to stop by work.

I needed to talk with the Sheriff about something, and Julius was awesome again.

He laid down in the Sheriff's office, and didn't budge until it was time to go.

Of course, this being a hunting county, one of the guys said "Julius" could go hunting with him to pack out his elk.

"Julius" declined.

This morning was our first real snow since we've had him, and he had a blast.

He was flying around in the snow.

He and the shepherd love to steal pieces of kindling.

They are just the right size to be fetched.

The other night "Julius" got up off the couch, went to the wood stove, picked up one of the logs out of the pile of firewood, and took it back to the couch to chew on.

He is just a big baby.

Well, I just wanted to let you know how things were going, and send you the photo.

Hope things are well with you,

Cherie Allen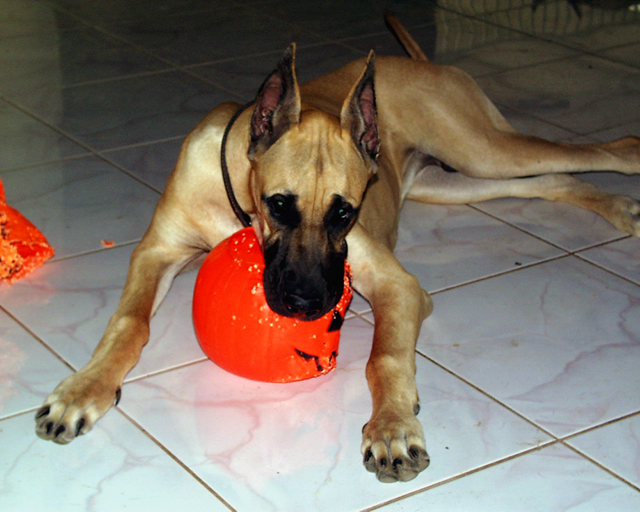 "Hercules" carves a pumpkin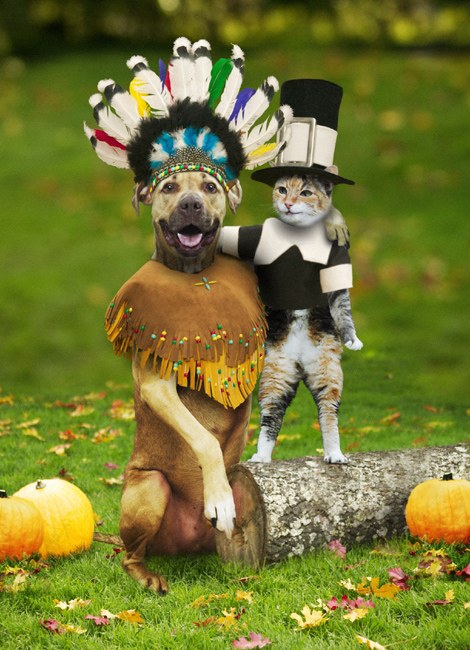 Happy Thanksgiving!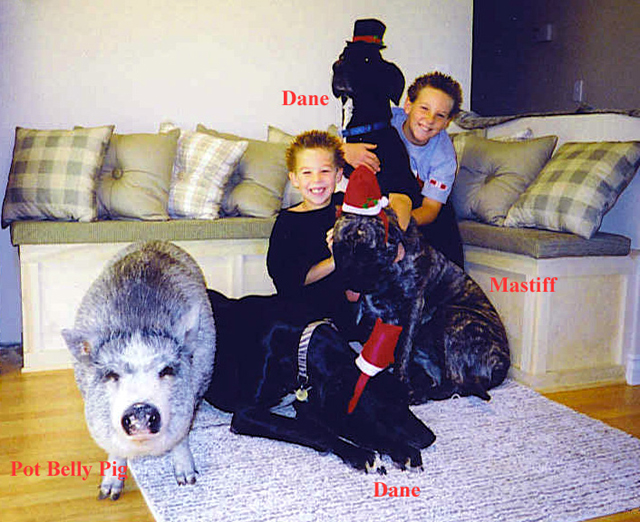 Hello Tracy,

This is Traci Bennett.

I adopted "Beauregaurd" from you and also "Gracie" now known as "Roxy."

I am still going to get you a photo of "Beau" who loves to shower with my kids.

But I thought you might like to see this photo.

Here is "Roxy" "Beauregaurd" and the latest addition to our family "Trinity" a Mastiff, (as well as our pot belly pig).

I didn't even know that you had Mastiffs.

I am really glad to know that.

We love our Mastiff.

She is 1 years old and is such a sweetie.

But, I still love my Danes.

They are still my favorite breed.

I am so glad that you are still going strong, and I want to thank you for all you do.

It is so UNBELIEVABLE!

I am so glad you have this website now.

It is great to see all these photos of all these dogs.

I hope you like this photo.

I will send you more as soon as possible.

Traci Bennett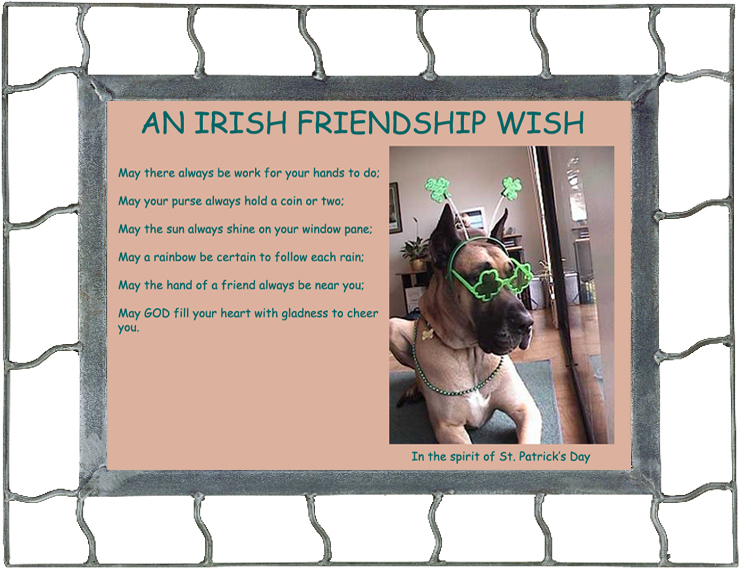 Celebrating St. Patrick's Day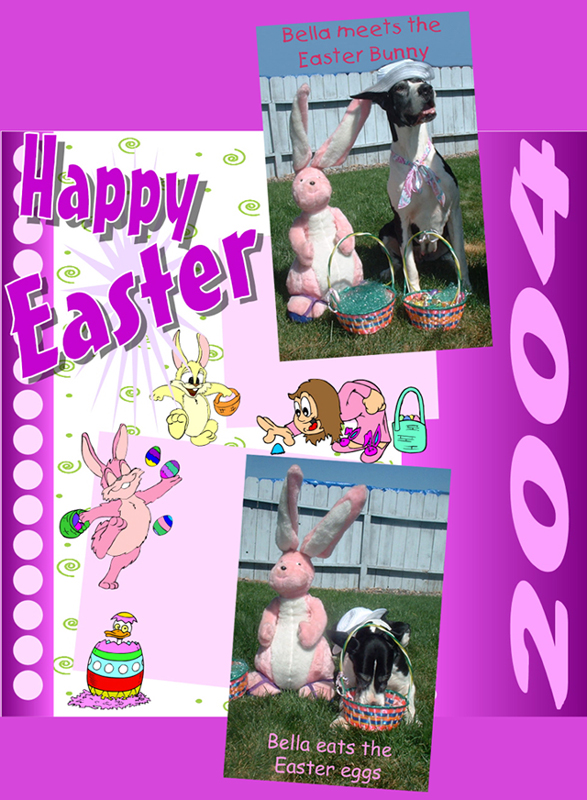 "Bella" the Great Dane celebrates Easter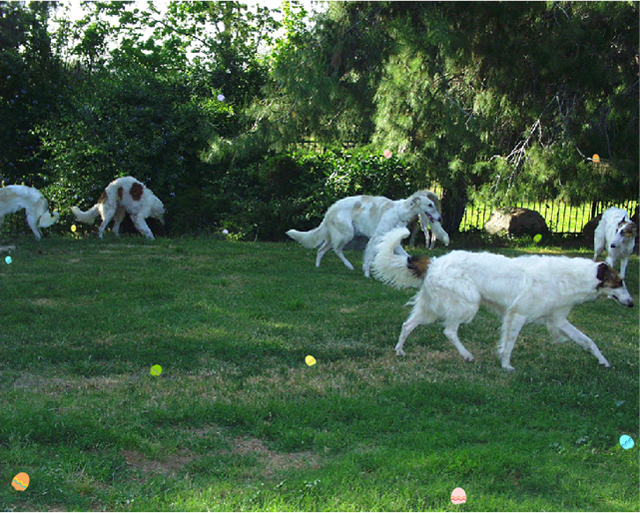 Borzoi Easter Egg Hunt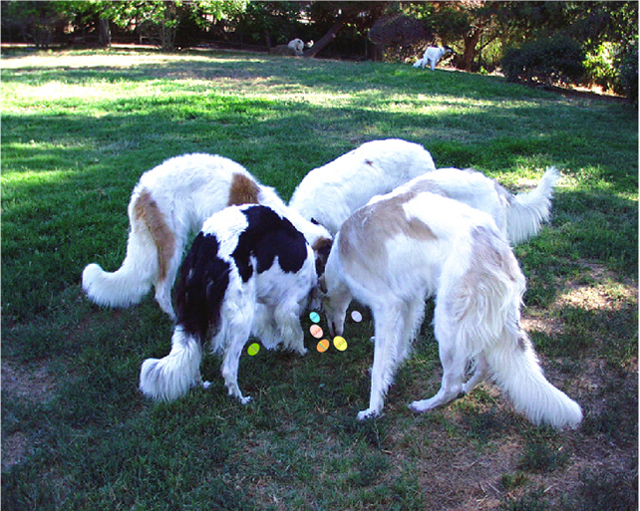 Borzoi love to eat hard boiled Easter Eggs!




Gentle Giants Rescue and Adoptions - Holi-Danes, Holi-Giants (Celebrating Holidays and other Special Events) - Page 3 of 3
Go to Page 1 · Page 2 · Page 3

Please Note: Gentle Giants Rescue and Adoptions, Inc. reserves the right to make changes, additions, deletions and/or modifications to its website, documentation, requirements and policies at any time.
All such changes, additions, deletions and/or modifications to its website, documentation, requirements and policies may apply retroactively at the discretion of the company.

© Copyright 2003-2012 Gentle Giants Rescue and Adoptions, Inc. All Rights Reserved.