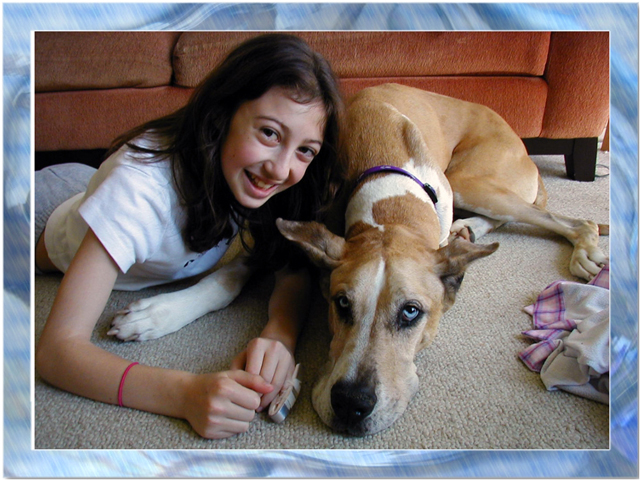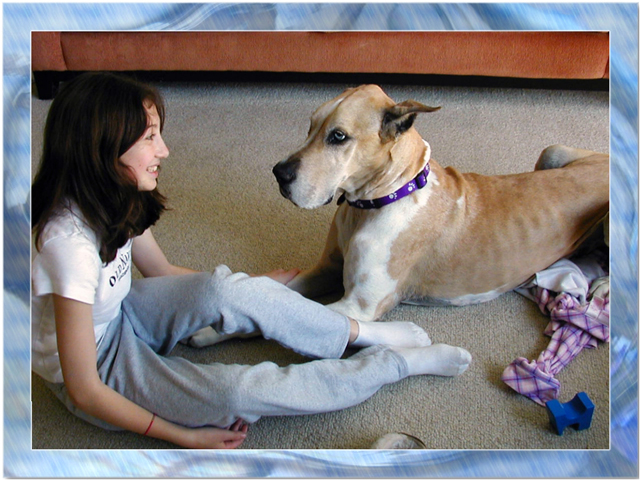 Dear Tracy and Burt,

Our experience at your rescue was incredible!

Such rare dogs that all love to play and well mannered.

Thank you so much for the experience of adopting "Calvin."

Now I truly believe in 'love at first sight!'

He was the first dog we saw, and ended up being the dog we would see forever!

He is truly what he is said to be! Gentle, loving,sweet!

He gets along so well with everyone and loves to be around the family.

Even though this is only our second day together, he is already adjusting to everything great and we have already had some funny experiences!

Just yesterday I was in my living room petting "Calvin" and before I new it, Max, our two year old, started distracting us in every possible way so we would give him attention and not our dog.

Soon we went out into our backyard with "Calvin" on his leash and to our total amazement, Max had found a jump rope that was the same color as "Calvin's" leash and started putting it around his own neck like a leash!

Max had a bad case of jealousy and wanted to be treated the same way as we were treating Calvin, lovingly!

"Calvin" seems like the nicest dog I've ever meet!

We admire you so much for all the work, love, and care you put into this!

You are truly very rare people that there needs to be more of in the world!

We hope to hear from you all the time and we will be sure to send you some more photos when we can!

Thank you so much,

Alla, Daniel, Yan, Julia, Max, and "Calvin"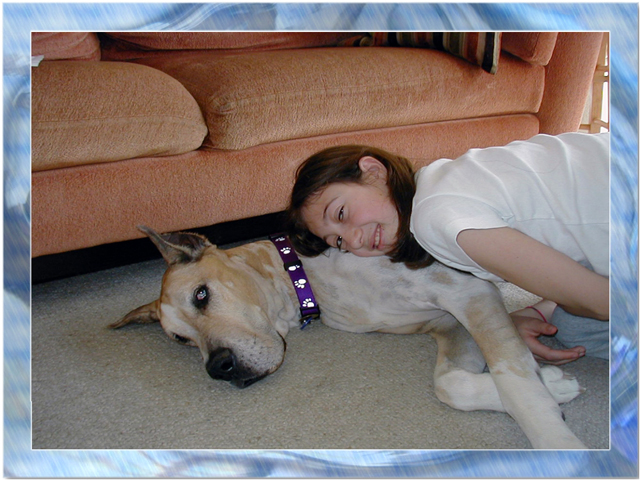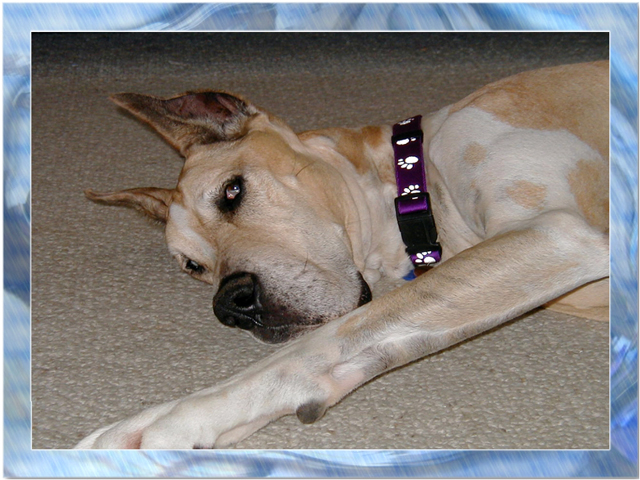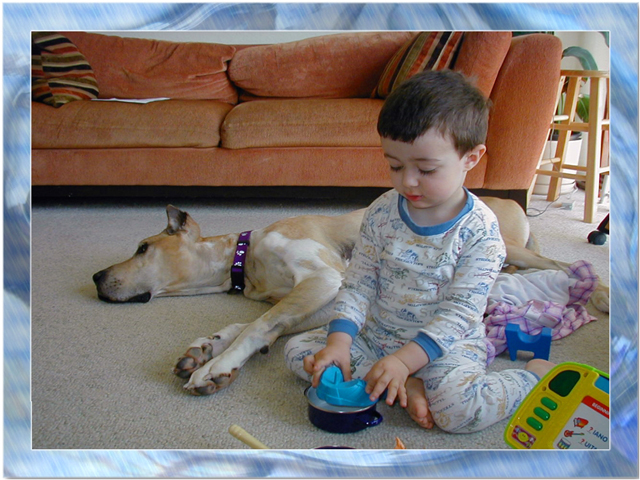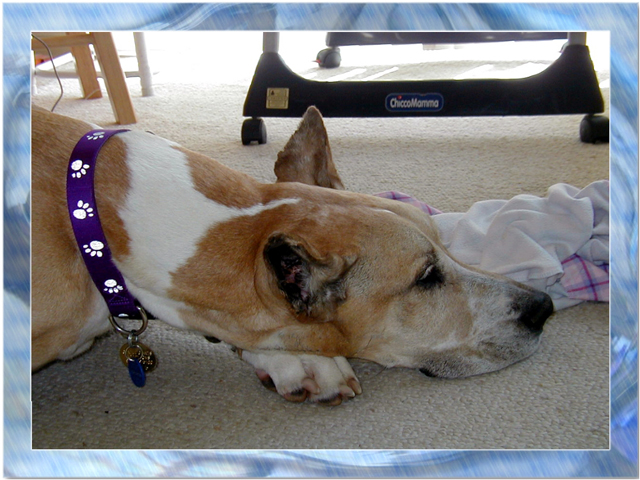 Hi Tracy and Burt,

I thought you might like to see some photos
of "Bru" (aka "Baloo") in his new home.

He has found our futon and since then made it his!!

He is such a wonderful addition to the family.

And we love our new "pack" member!

I hope all is going well.

Kristin and Aaron Wrobleski
Aaron and "Bru" stand nearly head to head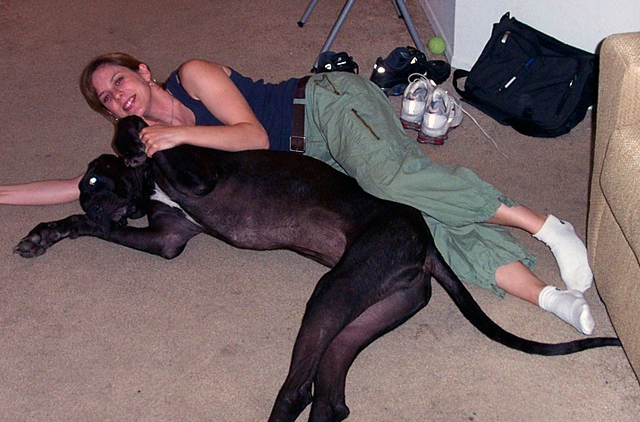 "Bru" and Kristin cuddle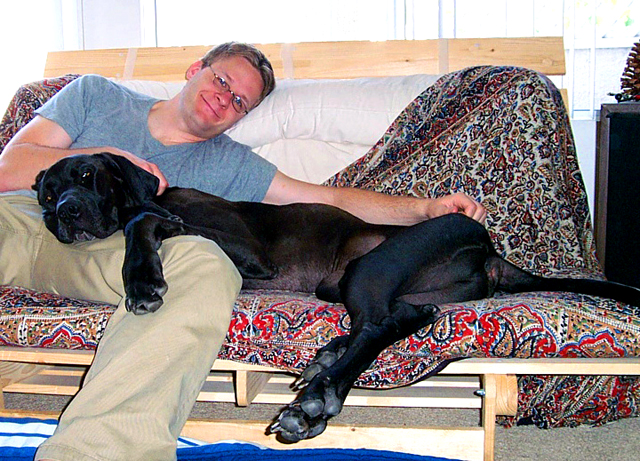 Aaron and "Bru" lounge together on
"Bru's" recently adopted futon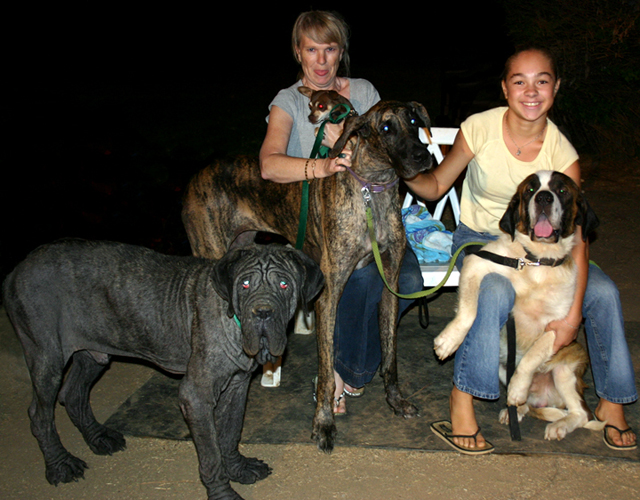 A family of 3 becomes a family of 6!
(Neopolitan Mastiff puppy, Great Dane puppy,
and St. Bernard puppy are the new additions)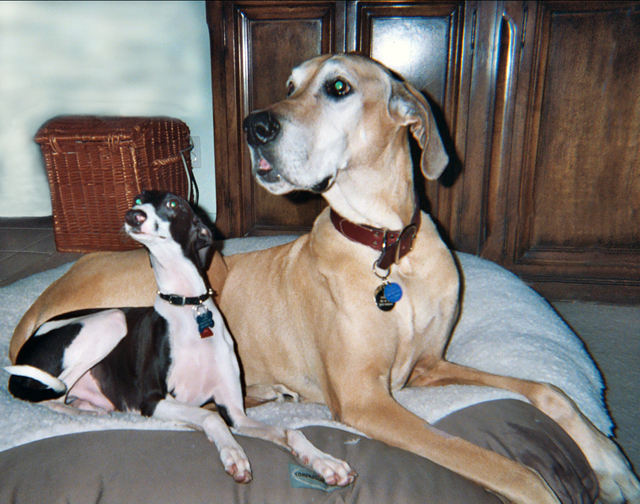 "Tahoe" a fawn Great Dane lounges with
"Jasper" a 'Little Giant' Italian Greyhound

We thought you would like to know how "Tahoe" is doing.

We've had her two months and she is an 'Incredible Dog.'

She and our other dog, "Sebastian," get along really well.

We take "Sebastian" and "Tahoe" to the dog park al-most every day and have met several people who have adoped dogs from Gentle Giants Rescue!!

She is definitely a very Gentle Giant and gets along with everyone and all her dog 'cousins' too.

Thank you again.

We love her.

Please Note: Gentle Giants Rescue and Adoptions, Inc. reserves the right to make changes, additions, deletions and/or modifications to its website, documentation, requirements and policies at any time.
All such changes, additions, deletions and/or modifications to its website, documentation, requirements and policies may apply retroactively at the discretion of the company.

© Copyright 2003-2012 Gentle Giants Rescue and Adoptions, Inc. All Rights Reserved.